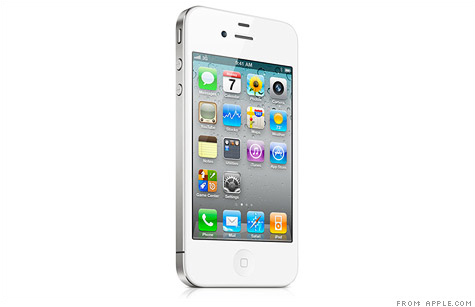 NEW YORK (CNNMoney) -- Little did Steve Jobs know in January 2007 that he was about to unveil a device that, four and a half years later, could help end a vicious debate about raising America's debt ceiling.
Well, sort of. But tucked inside Senate Majority Leader Harry Reid's bill to raise the debt ceiling is a proposal to make money by auctioning government-owned wireless spectrum to cell phone companies.
Wireless spectrum is the frequency that mobile devices and towers use to send and receive information.
Reid's plan, by selling spectrum, would reduce the deficit by a net $13.1 billion over the next 10 years, the Congressional Budget Office said Wednesday. It's a drop in the bucket when Reid needs $2.7 trillion in spending cuts to raise the debt ceiling by the same amount, but every bit counts.
Even though it's not a lot of money, it's already stirring a debate.
The National Association of Broadcasters "is deeply concerned about provisions currently in Senate Majority Leader Reid's legislation that would threaten the future of a great American institution -- free and local television," a spokesman said.
The television broadcasters are worried that expanded wireless use of the spectrum would cause interference with their channels.
But the broadcasters' proposal to prevent interference would require spectrum -- thus less spectrum to auction. And therefore less revenue for Reid's bill to claim.
Ever since Apple's (AAPL, Fortune 500) iPhone sparked a smartphone craze, wireless spectrum has been stuffed to the gills by consumers downloading YouTube videos and uploading photos to Facebook on their mobile devices.
Reid's bill is not the first proposal to solve the problem of crowded wireless spectrum space. In fact, one is already before the Senate: A bipartisan bill co-sponsored by Sens. Jay Rockefeller and Kay Bailey Hutchison passed a vote in the Senate Commerce Committee in June.
And here's where Reid's bill has sparked yet more critics. This time it's the wireless industry, which says Reid's proposal undercounts what it will cost to successfully implement a crucial part of the plan.
For one thing, Reid's bill would spend $7 billion to help fund the creation of an emergency wireless network. The bipartisan Rockefeller-Hutchison bill allocate $12 billion.
"Reid's bill offers enough for the public safety network to get its doors open, but not enough to get the job done," said one wireless industry lobbyist who asked not to be named.
Reid's bill also trims a few billion dollars off of research and development funding that was allocated in the Rockefeller-Hutchison bill.
It turns out there's a history of stuffing spectrum auctions into budget bills. Since the FCC began selling frequencies in 1993, each auction has come as part of a broader budget bill.
The first came in 1993 and the second as part of the 1997 balanced budget bill. The third and most recent auction, which involved digital television and the allocation of the frequencies used for 4G networks, came as part of a 2005 budget deal.