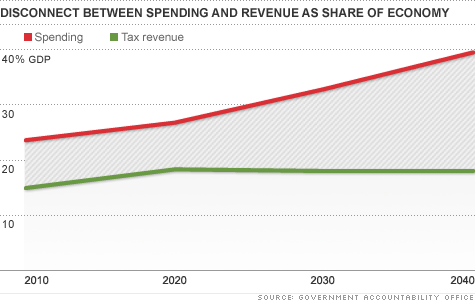 NEW YORK (CNNMoney) -- With all the Washington dysfunction over the debt ceiling, it's easy to forget the reality of the debt problems everyone says they want to fix.
Here's what's at stake: An entitlement system that Americans rely on but that promises more than it can afford; a tax code that is complex, inefficient and perceived to be unfair; and a projected growth trajectory for debt that is unsustainable and threatens the country's economic future.
How unsustainable? By 2025, spending on Medicare, Medicaid, Social Security and interest on the debt is projected to suck up virtually all federal tax revenue, with interest costs alone accounting for nearly half. By 2040, there would only be enough in federal tax revenue to pay for interest and most of Social Security.
So what have all the political fireworks in Washington accomplished so far? Not much.
It's likely the debt ceiling will be increased, although when and by how much is still very much up in the air.
It's also expected that any debt ceiling bill will cut spending. But the deficit savings will fall short of the balanced, bipartisan grand bargain that serious fiscal experts say is necessary to start reining in the country's debt over time.
Any grand bargain package would have to include increased revenue and lower entitlement spending, they say. The current bills under consideration include neither.
The kicker: All of the political grandstanding on the debt ceiling in the name of debt reduction has left the country's AAA credit rating vulnerable to a downgrade.
Way to go, Congress.
How did it come to this? There are a lot of factors, but here are just two:
While President Obama now embraces the idea of a grand bargain, he waited months to publicly embrace the framework set out by his own bipartisan debt commission. Nor did he use his bully pulpit early enough to get a rational conversation about debt reduction going.
House Speaker John Boehner, meanwhile, was negotiating a big debt-reduction plan with the president. But his party has also walked away from negotiations three times. And the most conservative and intransigent members of his party -- who broker no compromise on taxes -- have dominated the conversation.
Still, perhaps not all is lost.
Say lawmakers agree to a package of $1.5 trillion in spending cuts over 10 years.
If the savings are real and spread out over the decade, it could be a "real step in the right direction," said William Gale, co-director at the Tax Policy Center. "We will not have a sustainable federal budget because Medicare and Medicaid are still growing. But we will have a less unsustainable budget."
And if it's a prelude to more serious steps, it might make a meaningful difference, said Barry Anderson, a former director of the Congressional Budget Office. "It would be a serious down payment if in fact it was the first step to be followed by real cuts in Social Security and health spending, as well as a revision of the tax code that produced some revenues."
Currently the House and Senate are considering proposals that would create a commission to come up with still more debt-reduction ideas.
That's hardly a novel or necessary idea. Washington is already awash in debt reduction blueprints. In addition to the framework from President Obama's bipartisan debt commission last December, another bipartisan commission of budget experts put out a plan that also recommended economic stimulus measures to help strengthen the current recovery, since a weak economy makes the debt worse not better.
"Don't our policymakers get it? That postponing and shoving the responsibility for coming up with proposals to others isn't exactly showing us their leadership. I mean, geez," said Diane Lim Rogers, chief economist of the Concord Coalition.
Taking the 30,000-foot view, Gale is a little more sanguine.
"Don't lose sight of how far they've come in the past year," he said.
A year ago, very few on Capitol Hill were talking debt reduction. Now, no one can stop fighting about it.
Like the five stages of grief, Congress has graduated from denial to anger and bargaining, Gale said.
Maybe they'll soon move onto acceptance and publicly debate the issue in a more rational way.
They might need a little encouragement, though.
"If Americans get completely fed up with the partisanship and general immaturity in Washington," Rogers said, "[politicians] will be expected to actually level with us and ... make policy rather than bicker about it."