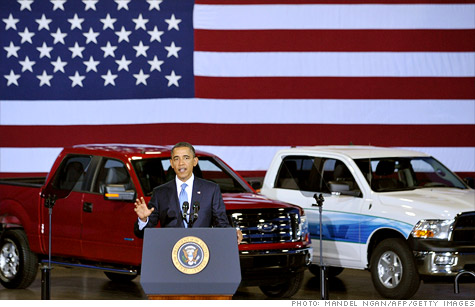 President Obama made his fuel economy announcement in front of a line-up of vehicles including a Ford F-150 with a fuel-efficient V6 EcoBoost engine and a plug-in hybrid Ram pick-up made by Chrysler.
NEW YORK (CNNMoney.com) -- Calling it "the most important step we've ever taken in reducing our nation's dependence on foreign oil," President Obama announced a proposed new round of fuel economy standards for cars and trucks sold in the United States that would double the average mileage by 2025.
Under the proposed plan, the combined fuel economy of all cars and light trucks sold in 2025 would have to increase to an average of 54.5 miles per gallon, or nearly double the current figure. They'd ramp up to that level over seven years, starting in 2017 when current rules end.
Cars are expected to get an average of 62 mpg in 2025, while trucks should average 44 mpg.
The proposal was announced in a Washington ceremony at which the president was flanked by auto industry leaders, including the heads of General Motors (GM, Fortune 500), Chrysler, Toyota (TM)'s U.S. arm and the United Auto Workers union.
Environmental groups had been pushing for a 60 mpg requirement, but industry representatives objected that meeting such a high fuel-efficiency standard would be too costly. Despite the lower goal, a number of environmental and consumer groups voiced their support for this compromise plan.
"We will still see the same types of vehicles on the road, but they will be dramatically more fuel efficient, cost less to operate, and produce less pollution," Michelle Robinson, director of the Union of Concerned Scientists' Clean Vehicles program, said in a statement
Under requirements currently in place, the fuel economy of all 2011 cars and trucks sold has to average out to 27.3 mpg. By 2017, when the current rules run out, they will have to average 34.1 mpg.
Each automaker will be given fuel economy targets tailored to the types of vehicles it sells. Automakers like Ford (F, Fortune 500) and Toyota that sell large trucks and SUVs as well as small cars and hybrids might be given a lower fuel economy target than automakers like Honda and Hyundai that sell no large trucks.
And Ford, say, could offset sales of a few V8-powered Mustangs with sales of popular Fiesta subcompacts.
Still, fuel efficiency requirements for pickup trucks and SUVs would rise more gradually than those for cars. Cars would be required to average a 5% improvement in fuel economy each year from 2017 through 2025, while trucks would only need to rise 3.5% a year through 2021.
The plan amounts to an "agreement in principle" between automakers and the government, but a formal proposal won't be issued until the fall. Then, after a 90-day "public comment" period, details of the requirement will be worked out. Official regulations aren't expected until fall 2012.
Regulators will meet with automakers in 2021 to check on progress and to see if adjustments are needed to the plan. The Consumer Federation of America, a non-profit consumer group, is already voicing hope the plan can be made more aggressive.
"We believe the economics of fuel economy will get better and better over time, as costs come down and gasoline prices rise, so that by the time the program reaches the 'mid-course' review in ten years, the case for accelerating improvement will be compelling," said federation research director Mark Cooper.
The Environmental Protection Agency estimates that the rules will save drivers $8,000 per vehicle and reduce oil consumption by 2.2 million barrels a day, or about half as much as the nation currently imports from OPEC nations.
Corporate Average Fuel Economy (CAFE) figures like these aren't calculated using the familiar EPA fuel economy numbers seen on new-car window stickers.
EPA figures are adjusted to reflect real-world driving and are typically about 20% lower -- indicating worse fuel economy -- than the figures used to calculate CAFE compliance. For instance, a car that gets 21 mpg according to the EPA window sticker might count as a 27 mpg car for CAFE requirements.
CAFE regulations are jointly administered by the National Highway Traffic Safety Administration and the EPA.
While most major automakers voiced support for the plan, not all are enthusiastic.
"Our current understanding of the proposal raises some concern and we're continuing to review it," Donna Boland, a spokeswoman for Mercedes-Benz USA, said an e-mail.
Another German automaker, Volkswagen, also spoke out against the proposal.
"Volkswagen does not endorse the proposal under discussion," VW said in a statement. "It places an unfairly high burden on passenger cars, while allowing special compliance flexibility for heavier light trucks."
Tougher for smaller car makers
Stricter fuel economy requirements could spell trouble for smaller automakers that lack the research and engineering staffs to come up with new fuel-saving technologies, said industry analyst Dave Sullivan of Autopacific.
Also, smaller automakers don't have as broad a range of models to work with. Their larger competitors can improve their average fuel economy simply by incentivizing sales of smaller cars at the expense of larger ones.
"This could really squeeze some of the smaller automakers out of the U.S. marketplace," he said.
These new fuel economy increases will almost certainly require price increases as automakers add new technology and more expensive lightweight materials to cars and trucks.
Higher car prices will be a major concern for consumers, said Jeremy Anwyl, chief executive of the automotive website Edmunds.com, in a draft of a letter he sent to the EPA. Anwyl expressed frustration with the secretive nature of the government's discussions with automakers and environmental groups in preparing the new rules.
"The two things that concern consumers most are the availability of vehicles that they prefer, and the pricing of those vehicles," Anwyl wrote.
The new fuel economy regimen may not be beneficial for consumers, said Jack Nerad, editorial director for Kelley Blue Book. At an estimated cost of $2,000 per car, he said, car buyers may not come out ahead.
"On the micro level, we have a hard time believing that the typical new-car customer will be happy about spending $2,000 more for his or her new car than they otherwise would for fuel economy benefits that may or may not pencil in their favor over their ownership period," Nerad said.