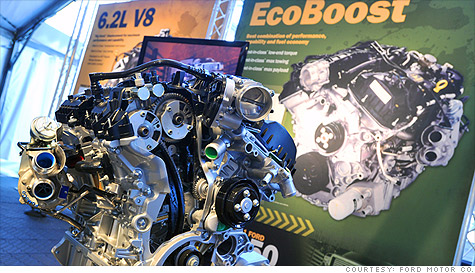 With gas prices on the rise, a majority of Ford F-150 buyers are getting new EcoBoost V6 engines.
NEW YORK (CNNMoney) -- Last month, for the first time in 26 years, more Ford F-150 pickup buyers opted for V6 engines rather than the more traditional V8.
Most of these customers aren't opting for the V6 truck because it's cheaper, either. It isn't.
The most popular V6, by far, is the twin-turbo EcoBoost V6, which 41% of all F-150 buyers purchased last month costs almost $1,000 more than a V8 truck, Ford spokesman Richard Truett said.
The remainder of V6 buyers opted for the F-150's new base powerplant, a non-turbocharged 302-horsepower engine.
The last time Ford (F, Fortune 500) offered a V6 engine in its heavy-hauling full-sized truck was in 2008 and, at the time, only about eight percent of buyers opted for it, Truett said.
Back then, though, truck buyers had to make big sacrifices in towing and hauling -- the thing people buy trucks for -- for a slight gain in fuel economy and a lower sticker price. This time, even the base V6, without turbocharging, can tow and haul much more than the V6 of a few years ago.
And when it comes to today's twin-turbocharged EcoBoost V6 engine, it provides almost the same power as the much larger 5.0-liter V8. In fact, the turbo V6 truck has even more towing capacity than the 5.0-liter V8. (Ford also offers a larger 6.2-liter V8, but it's available only in some special-edition versions of the F-150 and sells in very small numbers.)
"These products would not sell if buyers had to compromise on capability," Ford sales analyst George Pipas said.
To win over skeptical truck buyers, Ford introduced the new V6-powered trucks last November with a coast-to-coast test drive tour, bringing trucks to potential customers' homes so they could drive the trucks themselves.
Actual fuel savings are still relatively small, according to EPA estimates. Just 1 mpg in combined city and highway driving for the turbocharged EcoBoost engine vs. the 5.0-liter V8. Fuel savings add up to an estimated $185 a year, according to the EPA's fueleconomy.gov Web site.
Those figures don't reflect real-world driving, though, said PickupTrucks.com editor Mike Levine. Levine extensively tested the EcoBoost truck both in ordinary driving and pulling heavy loads.
"The EcoBoost's mileage, while you're unloaded, is just far and away better than the 5.0-liter [V8]," he said.
When hauling heavy loads fuel economy does begin fall to something closer to the V8, though. But for drivers who only push the truck's maximum capabilities occasionally, the EcoBoost V6 makes sense, Levine said.
"If you only tow once a week or once a month, I'd go with the EcoBoost," he said.
It doesn't seem that buyers are just trying to budget gas money, Pipas said.
EcoBoost truck buyers tend, most often, to buy expensive 4X4 and extended cab trucks loaded with pricey options, he said, not the sort of thing you'd expect if they were just calculating savings at the pump.
Instead, said Pipas, truck buyers are getting into the "small and powerful is better" mindset that has gone along with cell phones and computers.
Don't tell that to General Motors, the nation's second-biggest seller of pickups. GM offers V6 engines in the GMC Sierra and Chevrolet Silverado but they make up only about 10% of trucks sold.
Some of GM's V8 trucks match Ford's EcoBoost truck in EPA-estimated fuel economy, GM spokesman Tom Wilkinson said.
"Our customers are telling us they're very happy with that solution," he said.
Similarly, less than 10% of Chrysler Group's Dodge Ram trucks are V6-equipped especially since Dodge dealers have been offering inexpensive special-edition V8-equipped Ram trucks, Chrysler spokesman David Elshoff said.
Toyota (TM), which sells far more mid-sized Tacoma trucks than full size Tundras, said only 2.5% of Tundras sold are V6-equipped.
With gas prices rising, other automakers are also seeing buyers looking for the smallest engine that will do the job. Last month, more than half of Chevrolet sales were vehicles with four-cylinder engines, according to General Motors (GM, Fortune 500). That was more than five times the rate of five years ago, the automaker said.
This V6 F-150 is hardly the end of the line for surprisingly small engines in Fords, either. The automaker recently announced development work on a three-cylinder EcoBoost engine.
This summer, Ford will begin offering an EcoBoost 4-cylinder engine in the new Explorer SUV. Beyond that, Ford has said the EcoBoost engines of various sizes will be offered in 90% of the automaker's line-up.