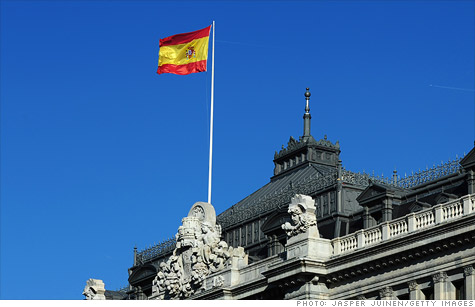 Moody's downgraded six regions of Spain on Friday.
NEW YORK (CNNMoney) -- Moody's Investors Service downgraded six regions of Spain on Friday, and warned that other regions could also face a downgrade.
The credit ratings agency issued the downgrade because of the regions' dismal fiscal performance, and the difficulties expected in their attempts for recovery.
Moody's downgraded the long-term ratings by one notch for Castilla-La Mancha, Comunidad Autonoma de Murcia, Valencia, Catalonia, Junta de Andalucia and Junta de Catilla y Leon.
The rating agency said the downgrades "reflect the deterioration in their fiscal and debt positions," as well as the difficulties the regions are expected to face in dealing with their deficits.
Moody's also placed seven Spanish regions under review for downgrade, including the regional governments of Extremadura, Galifica and Madrid, as well as the Basque region.
The ratings agency said it would "view positively any strong signs of improvement" in the regional "budget trajectories," or a decrease in debt.
Moody's also placed Spain's "Aa2" government bond ratings under review for possible downgrade.
The agency cited "the increased vulnerability of the Spanish government's finances to market stress" as well as the increasing costs of debt funding, which could affect its "debt affordability."
Moody's also said the central government has difficulty controlling the regional governments and their ability to reach fiscal targets.
Also, Moody's said the recent Greek bailout package of €109 billion, or $155 billion, has exacerbated fiscal risks for Spain.
"The official support package for Greece announced last week somewhat increases the potential for adverse market dynamics," said Moody's, partly because of "the uncertainties surrounding the content of the package."
Spain has suffered from a stagnant economy and high unemployment. The country is one of the so-called "PIIGS," which includes European nations Portugal, Ireland, Italy and Greece -- all of which are facing the steepest fiscal problems.
Moody's recently downgraded Greece again because of its risk of default, even as it continues to receive international bailouts.
Moody's has also put the U.S. on notice for possible downgrade, given its political turmoil and stagnation over the prospect of lifting its debt ceiling. Standard & Poor's has also put the U.S. on notice.
Correction: An earlier version of this story incorrectly reported that Spain was downgraded.