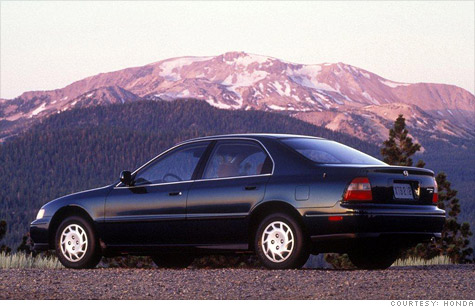 The 1994 Honda Accord is tops with car thieves because its parts are popular with street racers.
NEW YORK (CNNMoney) -- Honda and Toyota cars have long been popular with car buyers and they remain popular with car thieves, too.
The top three most stolen cars last year were the 1994 Honda (HMC) Accord, the 1995 Honda Civic and the 1991 Toyota (TM) Camry, according to a report by the National Insurance Crime Bureau.
This is the third year in a row that the '94 Accord had topped this list.
Following those cars came the also-popular full-sized American trucks. The 1999 Chevrolet Silverado by General Motors (GM, Fortune 500), 1997 Ford (F, Fortune 500) F-150 and Chrysler Group's 2004 Dodge Ram ranked fourth through sixth on the most-stolen list.
Rounding out the top ten were the 2000 Dodge Caravan minivan, the 1994 Acura Integra from Honda's luxury division, the 2002 Ford Explorer and the 1999 Ford Taurus.
The good news is that overall auto thefts are declining. Between 2009 and 2010, auto thefts dropped 7.2%, according to preliminary FBI crime statistics, the NICB said. If those numbers stand up when the FBI produces its final statistics later this year,it would mark the lowest number of auto thefts in the U.S. since 1967, the NICB said.
Improved anti-theft technology is one reason for the declining theft rates, according to the NICB. It's also a reason that the most-stolen models tend to be older cars.
Among other things, newer cars have electronic chips that prevent usable keys from being easily made at a hardware store, NICB spokesman Frank Scafidi said. Even with a copied key, thieves still won't be able to start the car.
Of nearly 52,000 Honda Accords stolen in 2010, over 44,000 were models made in the 1990s while fewer than 5,700 that were produced since the year 2000, according to the report.
Older cars are also popular because of the value of their parts. An older Honda Accord or Civic can be worth much more for its parts than if the entire car were to be sold whole.
The engines in old Hondas are particularly sought after by street racers, according to the NICB. Racers add performance parts to the engines and use them to replace damaged engines in other cars.
To prevent auto thefts, the NICB recommends car owners never leave the keys in the vehicle when it's unattended and have an alarm and a tracking system installed so the car can be quickly located if stolen.