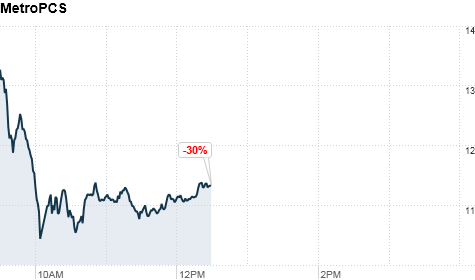 Click the chart for the latest MetroPCS stock price.
NEW YORK (CNNMoney) -- MetroPCS Communications suffered a dramatic stock plunge on Tuesday after the wireless provider issued an earnings report that fell short of expectations.
The share price for MetroPCS (PCS) ended trading for the day down 37% after the company missed Wall Street forecasts for its sales, earnings and subscriber growth.
MetroPCS said its net earnings were 23 cents per share in the second quarter, below the Thomson Reuters consensus analyst forecast of 29 cents.
The company also reported that it added almost 200,000 subscribers in the second quarter. Ben Abramovitz, an analyst for Kaufman Bros., said that was a bit higher than his own estimate of 195,000 new subscribers, though it fell short of Wall Street's consensus forecast for 230,000 to 240,000 new customers.
MetroPCS executives failed to provide a satisfactory explanation for its slowing subscriber growth in a call with analysts, Abramovitz said.
"They really didn't do a good job explaining why customers were leaving and where they were going, outside a general comment about the economic malaise out there," he said. "They attributed it to a soft economy."
The company also reported a revenue increase of nearly 20% to $1.2 billion, fueled by sales demand for Android smartphones, and a 6% increase in net income, to $84 million. But sales still came up shy of Wall Street's expectations.
Other wireless providers were dragged down in MetroPCS's wake. Rival Leap Wireless International (LEAP) plunged 21% in an apparent act of market solidarity, while Sprint Nextel (S, Fortune 500) slipped nearly 7%.
Market leaders Verizon (VZ, Fortune 500) and AT&T (T, Fortune 500) remained unscathed, dipping only 1% in Tuesday trading.
MetroPCS's grim results highlighted the growing gap between the industry's leaders and their smaller rivals -- one that will expand further if AT&T gains regulatory approval for its planned $39 billion purchase of T-Mobile.
MetroPCS ended its most recent quarter with 9.1 million customers. Verizon is currently sitting on 90 million retail wireless customers, while AT&T holds 99 million and is poised to pick up another 34 million with T-Mobile.