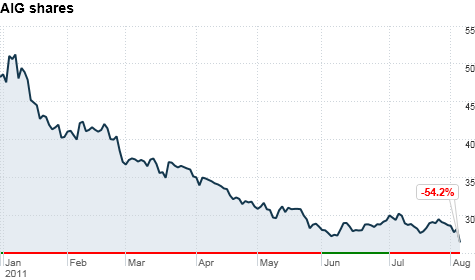 NEW YORK (CNNMoney) -- Bailed out insurer American International Group posted a second-quarter profit Thursday, even as its shares plunged to their lowest level since early last year.
AIG (AIG, Fortune 500) reported net income of $1.8 billion, a marked improvement from its $2.7 billion loss over the same period last year. Still, operating income excluding one time gains and losses tied to AIG asset sales, discontinued businesses, and other charges came in at 69 cents per share, below analyst estimates of 92 cents a share.
The company's stake in Asian insurer AIA provided a boost, as its strong earnings offset weakness in other parts of AIG's portfolio.
"Our results for the second quarter demonstrate the hard work from employees across all of our business units and our unrelenting focus on performance," CEO Robert Benmosche said in a statement.
But investors have yet to reward AIG, and the company's stock has been pummeled in recent months.
On Thursday, shares closed at $26.40, and are down more than 50% this year.
Back in 2008, the government agreed to help the giant insurer get back on its feet with a $180 billion lifeline. AIG has been slowly working toward paying back that loan.
It made some progress on that front in May, when it sold 100 million shares, while Treasury, the bailed-out insurer's biggest shareholder, offered 200 million.
"Our continued improving operating results should provide a catalyst for the U.S. Treasury to sell its shares at a profit for the taxpayers," Benmosche said. "Now that we have fully repaid our debt to the Federal Reserve, we are on the right path to demonstrate AIG's long-term value as an investment-grade company independent of government support."
But AIG will have to find a way to boost its share price if the government is to be made whole. Shares sit a stone's throw from $28.72 -- the breakeven point for Treasury's investment.