AIG stock's slide may hurt taxpayers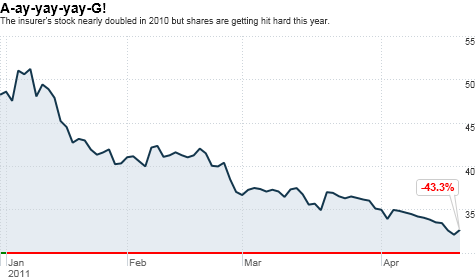 NEW YORK (CNNMoney) -- AIG may not generate as much outrage as it did in 2008 and 2009 when the financial sector was in freefall. But I've got 1.655 billion reasons why you should still care about the insurance giant.
The Treasury Department owns a 92% stake in AIG (AIG, Fortune 500): 1.655 billion shares. And that investment is dangerously close to slipping into the red.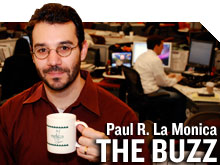 AIG, to its credit, has paid back a big chunk of the $180 billion lifeline the government extended it.
That's due to some big asset sales last year. It sold life insurance division Alico to MetLife (MET, Fortune 500) for $16 billion, raised $20.5 billion through the initial public offering of its AIA life insurer on Hong Kong's stock market and sold Japanese units AIG Star and AIG Edison to Prudential Financial (PRU, Fortune 500) for $4.8 billion.
But Treasury still has $47.5 billion in cash invested in AIG through the insurer's common stock.
Do the math and the breakeven stock price for that investment is a little below $29 a share. AIG's current stock price is just north of $32 a share. That's down nearly 50% from a 52-week high of about $62 at the start of the year. (That price did include the value of warrants which now trade as separate securities, however.)
Shares hit a 52-week low Tuesday, as AIG fell for the 10th consecutive day. The company has lost 8% of its market value during that period.
The Treasury Department had no comment about AIG's recent stock slide. There were reports earlier this year that Treasury would start selling some of its stock in March but it now appears that offering won't take place until at least May.
If you're looking for some good news though, there's a case to be made that AIG has finally hit bottom. The stock was up more than 1% Wednesday, so it looks like the company's losing streak may be coming to an end.
And with good reason. AIG investors this year are also worried about the massive asbestos liabilities tied to its Chartis property and casualty unit. AIG took a major step toward solving that problem on Wednesday though.
AIG reached a deal with National Indemnity, a unit of Warren Buffett's Berkshire Hathaway (BRKB), where National Indemnity will take on about $3.5 billion in potential asbestos claims in exchange for a $1.65 billion payout from AIG.
"This is good for AIG. It doesn't come cost free of course but it reduces some of the potential risks," said Clark Troy, research director with Aite Group, a Boston-based firm focusing on the financial services sector.
The earthquake in Japan didn't help AIG either. Shares of many insurers have fallen since mid-March due to concerns about how much of a loss they will face. AIG has said so far that it expects a pre-tax loss of about $1 billion in its Chartis unit.
That's clearly not great news. But, if losses are limited to a quarter or two, it might not be a drag on AIG's stock for much longer.

There's also a chance that AIG could raise more money in the next few months if it chooses to spin-off its jet leasing unit ILFC. A rival airplane leasing firm, aptly named Air Lease (AL), went public Tuesday and did fairly well. Shares rose about 6%.
It's also worth keeping in mind that AIG's stock, while a terrible performer this year, is still up sharply from its crisis lows. Shares traded at a split-adjusted price of about $7 in February 2009. AIG conducted a 1 for 20 reverse stock split in July of 2009 to get its stock price higher.
So the problem with AIG may not necessarily be that it is in such bad shape now. It's that investors got too excited about its turnaround prospects last year.
Shares nearly doubled in 2010. The market cheered the big asset sales. Purchases of AIG by widely regarded value investing shop Fairholme Capital Management, which is the second largest stakeholder in AIG after Treasury, also helped legitimize AIG again.
"A lot of people thought the stock was overvalued at the early part of this year," Troy said. "AIG has had some hiccups. Now is the time to take two steps back and reevaluate what it's worth."
Hopefully, for the sake of taxpayers, it's worth more than $29 a share. But it probably isn't worth as much as $62.
-- The opinions expressed in this commentary are solely those of Paul R. La Monica. Other than Time Warner, the parent of CNNMoney, and Abbott Laboratories, La Monica does not own positions in any individual stocks.