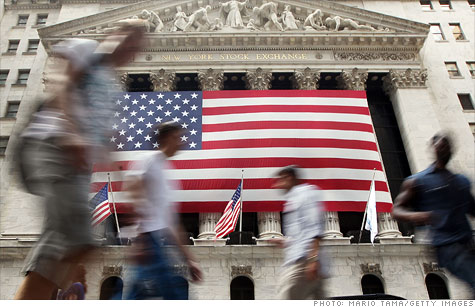 NEW YORK (CNNMoney) -- After weathering years of high unemployment, falling home prices and losses in their retirement portfolios, many Americans are unperturbed by the debt downgrade that sent the Dow plunging.
After Standard & Poor's downgraded the United States' credit rating by one notch to AA+ from AAA, stocks plunged more than 5.5% Monday -- the second major sell-off since last Thursday. And while economic concerns about the downgrade of the U.S. debt are widespread, many Americans appear to be largely unaffected by how it will impact their own finances.
In fact, 45% of Americans said the stock market's decline in recent weeks did not affect their family's financial position at all, according to a CNN/ORC International survey released Monday.
"This news about the economic downgrade is disheartening, but probably won't change anything for me," said Ellen Porter, 49. Porter, a public relations executive in Riverside, Calif., says she has a 401(k) with Fidelity that is a conservative mix of stocks and bonds, but does not worry about its day-to-day activity. "I read the quarterly statements, but I wouldn't say I'm checking on it."
Others take a similar stance, even in the midst of the turmoil surrounding the nation's long-term debt plan.
"I can't be overly concerned with things I can't control," said Michael Allen, 41, a writer in Clearwater, Fla. Allen sold off the bulk of his portfolio of blue-chip stocks during the recession and also has little in the way of investments.
Rather than selling stock, more Americans say cutting back is their preferred reaction of choice as fears of a double-dip recession persist.
"The bad economy is what it is, so yes, I'm concerned, but not because of the downgrade news," said Amy Zhang, an accountant who lives near San Francisco. Zhang, 31, says she has already cut her spending sharply -- she moved out of the city to cut her living expenses and has curbed her luxury purchases. In general, she said she's being a lot more cautious about her personal finances.
That also goes for media consultant Leslie Richin, 33, even though she lives in downtown Manhattan. "I see the commotion on Wall Street," she said, "but I have been mindful of my expenses for awhile. No shopping, no vacations, no cable. I certainly hope things will improve, but I'm prepared for things to remain as they are for quite some time," she said.
Without a full-time job or retirement account, Jacqueline Gikow, 64, is largely unaffected by what happens on Wall Street. "Right now, I am unemployed and living on disability, which is enough to pay my rent, food and some entertainment," she said. "My retirement income is going to be Social Security. Without that, I'd be on the street."
But many investment advisers agree that no plan, may, in fact, be the best plan to weather this kind of economic storm. "If they don't know what to do then they shouldn't be involved in the markets at all," noted Marc Pearlman, an investment adviser based in Williamsville, N.Y.
"That, in my opinion, is the better way to be, rather than running around like a chicken with their head cut off," he said.