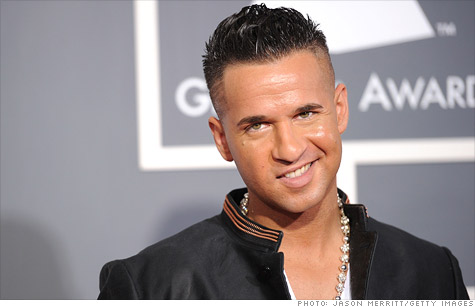 Abercrombie & Fitch's stock price dropped after the retailer offered to pay Michael "The Situation" Sorrentino to not wear the company's clothes. Coincidence?
NEW YORK (CNNMoney) -- A day after dissing The Situation, the situation for clothing retailer Abercrombie & Fitch's stock is not pretty.
The stock price for Abercrombie & Fitch (ANF) fell nearly 10% at one point on Wednesday and finished nearly 8% lower for the day. It was the first trading session after the clothing retailer offered "The Jersey Shore" star Michael "The Situation" Sorrentino and other members of the hit MTV reality show "substantial payment" if they stopped wearing Abercrombie-branded clothes.
But what more likely moved the stock was a retreat from a recent run-up after the company reported earnings that beat analysts' expectations, and gave tepid comments about its outlook.
Abercrombie & Fitch reported a sales increase of 23% in the quarter ended July 30, to $917 million. Even more dramatically, it reported a 64% surge in net profit to $32 million, or earnings of 35 cents per share.
That's significantly more than the 27 cents forecast by John D. Morris, senior retail analyst for BMO Capital Markets.
Morris said Wednesday's sell-off was due largely to management's guarded comments with analysts, especially coming after recent stock gains.
"Management's tone was cautious, and that creates an air of uncertainty," he said. "In this fearful macro backdrop, investors don't like that."
But Morris doesn't have a problem with management's reticence, referring to it as "prudent."
As for the situation with The Situation, Morris had words of praise for the way Abercrombie & Fitch put itself in the spotlight by capitalizing on its association with a celebrity.
"With respect to The Situation, Abercrombie & Fitch saw an opportunity to get some advantageous publicity during the all-important back-to-school season," said Morris, who does not own stock in the company. "It's definitely a good water-cooler conversation."
On Tuesday, Abercrombie & Fitch released the following statement regarding The Situation: "We are deeply concerned that Mr. Sorrentino's association with our brand could cause significant damage to our image. We understand that the show is for entertainment purposes, but believe this association is contrary to the aspirational nature of our brand, and may be distressing to many of our fans."
The retailer said it has also "extended this offer to other members of the cast."
A spokeswoman for Sorrentino declined to comment to CNNMoney.
But an MTV spokesperson told CNN: "It's a clever PR stunt and we'd love to work with them on other ways they can leverage 'Jersey Shore' to reach the largest youth audience on television."
"Jersey Shore" is currently in its fourth season, where the ne'er-do-well cast members have been set loose on the Italian city of Florence.
The show has ruffled feathers for depicting Italian-Americans as drunken, violent and promiscuous louts who spend much of their time in tanning booths, clubs and gyms.
Having said that, a couple of the female cast members are not even Italian.