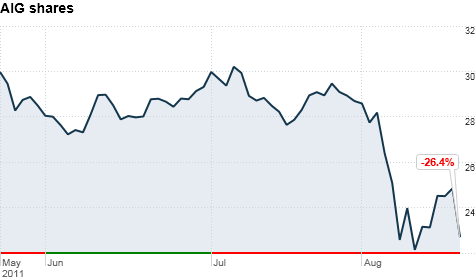 Click to track AIG shares.
NEW YORK (CNNMoney) -- Bailed out insurer American International Group dropped another $2.15 billion into the coffers of the Treasury Department on Thursday.
Back in 2008, the government agreed to help the giant insurer get back on its feet with a $180 billion lifeline. AIG has been slowly working toward paying back that loan.
The latest repayment stems from the sale of AIG's Taiwan-based subsidiary Nan Shan Life Insurance Company. One of AIG's (AIG, Fortune 500) strategies for lowering its debt has been to raise funds through asset sales.
"We continue to make progress in helping the Treasury and taxpayers recoup their investment in AIG," AIG CEO Robert Benmosche said in a statement.
And of course, the Treasury expressed its pleasure with the transaction.
"This is another important milestone in AIG's remarkable turnaround," Tim Massad, the assistant secretary for financial stability, said in a statement. "We continue to make progress in recovering the taxpayers' investments in AIG."
But the insurer has a way to go -- it still owes the Treasury $51 billion.
It made some progress on that front in May, when it sold 100 million shares, while Treasury, the bailed-out insurer's biggest shareholder, offered 200 million. That raised $8.7 billion.
The Treasury still owns a bundle of additional shares.
But AIG will have to find a way to boost its share price if the government is to be made whole. Shares closed Thursday at $22.70, a fair distance below $28.72 -- the breakeven point for Treasury's investment.