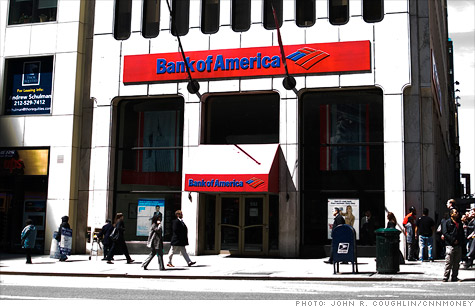 Bank of America is cutting 3,500 jobs.
NEW YORK (CNNMoney) -- Bank of America is cutting 3,500 jobs, on top of thousands of job cuts that have already occurred this year, the company said Friday.
Bank of America (BAC, Fortune 500) spokesman Scott Silvestri said the 3,500 job cuts will be spread throughout the company and will occur in the third quarter. The bank is based in Charlotte, N.C., but the cuts will occur internationally, he said.
The job cuts will be in addition to the 2,500 that have already occurred this year, he said. That's less than 1% of the total work force, since Bank of America still had 287,000 employees as of June 30.
Silvestri did not explain specifically why the reductions are happening, except to say, "The company regularly assesses the efficiencies of its businesses."
Andrew Marquardt, senior analyst with Evercore Partners, said that Bank of America's job cuts are the result of weaker-than-expected revenue growth and slower loan demand.
"The issue with Bank of America is that they're cutting costs like all banks are in this environment," he said. "They need to improve their capital position. That's one of the major issues hanging over the stock."
Richard Bove, analyst with Rochdale Securities, said that Bank of America is reducing its work force and selling off parts of its business -- including credit card and life insurance portfolios -- to bring itself in line with international banking rules.
"It's more than getting rid of people; it's getting rid of businesses," he said.
Bank of America shares are down more than 47% so far this year, as concerns about the way the nation's largest bank by assets is dealing with the aftermath of the mortgage crisis.
Earlier this month, Bank of America's stock plunged on news that it was being sued by American International Group (AIG, Fortune 500) for billions of dollars over alleged mortgage securities fraud.
Shares of Bank of America slipped by less than 1% at the start of trading.