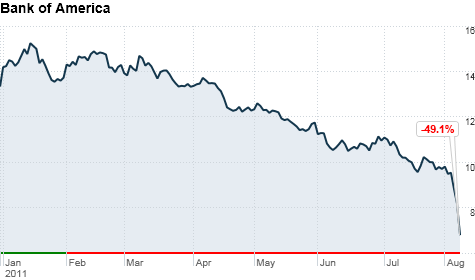 NEW YORK (CNNMoney) -- Bank of America shares plunged 20% Monday, fueled in part by a steep selloff in the broader market and news that insurer American International Group is suing it for billions of dollars over alleged mortgage securities fraud.
Bank of America (BAC, Fortune 500), the nation's largest bank, tumbled more than 20% while shares of AIG (AIG, Fortune 500) fell 10% on Monday. Bank of America has already lost nearly 49% of its value this year, while AIG has tumbled more than 59%.
Richard Staite, analyst with Atlantic Equities, said there were two main catalysts for Monday's selloff in Bank of America's stock.
First, the slump in Bank of America's stock is being triggered by more than just the AIG news. It's part of a broader market selloff that took other banking stocks down with it.
Citigroup (C, Fortune 500) shares fell 15.7%, JP Morgan Chase (JPM, Fortune 500) slumped almost 8.7%, Wells Fargo (WFC, Fortune 500) fell 9% while shares of Regions Financial (RF, Fortune 500) tumbled 13.5%.
Second, investors are losing confidence in Bank of America, he said.
"Management has tried to reassure investors over the course of the last six months that they are getting on top of the mortgage problem but investors are very skeptical," he said, adding that there's really nothing that Bank of America can do to stop its stock price from falling.
There was more bad news for Bank of America. Credit default swaps (CDS) tied to its debt were at their highest level since May 2009.
Credit default swaps reflect the interest rates that Bank of America has to pay to borrow money. If they keep rising, Staite said it would exacerbate investor concerns about whether the company has enough liquidity to run its business.
Hoping to allay those concerns, Bank of America spokesman Jerry Dubrowski said the company has no plans to raise additional capital. "We have enough capital to operate the business and execute our business strategy," he said.
Staite also said said he is not overly concerned about Bank of America facing a liquidity crunch anytime soon.
Separately, AIG is suing Bank of America's for alleged fraudulent activity that it claims "caused billions of dollars in damage" to its business.
AIG's lawsuit is specifically tied to hundreds of mortgage-backed securities that the insurer claims Bank of America -- and its Merrill Lynch and Countrywide Financial units -- knew were not top quality, according to published reports.
The insurer is seeking to recover more than $10 billion in losses from Bank of America on $28 billion of investments, in what could be the largest mortgage-security-related action filed by a single investor, the reports said.
"We are bringing this suit today to protect AIG and the taxpayers' stake in it," AIG spokesman Mark Herr said in a statement.
Bank of America responded to the lawsuit by saying that AIG "recklessly chased high yields and profits throughout the mortgage and structured finance markets."
"It is the very definition of an informed, seasoned investor, with losses solely attributable to its own excesses and errors. We reject its assertions and allegations," Dubrowski said in a statement.
AIG's Herr said Bank of America's comment was "disappointing but unsurprising."
"Investors, no matter how sophisticated, were entitled to rely on [Bank of America's] numerous written representations about the securities it sold," he said. "Now that it is clear that those representations were false, Bank of America must be held to account."
Back of America received billions of dollars in federal bailout funds through the government's Troubled Asset Relief Program (TARP) during the crisis of 2008.
In December 2009, Bank of America paid back all of the $45 billion in bailout money.
The government also gave AIG a $182 billion lifeline to keep the insurance company out of bankruptcy at the height of the financial crisis.
That lifeline was offered in exchange for a near-80% stake in the insurer. AIG has paid back a portion of its loan, and the Treasury Department holds the rest in public shares, which it plans on selling over time.
In May, AIG sold 100 million shares, while Treasury sold 200 million shares. The government still owns almost 80% of the insurer.
--CNNMoney reporter Ken Sweet contributed to this report.