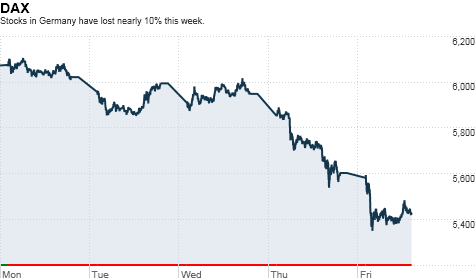 Click the chart for more data.
NEW YORK (CNNMoney) -- European leaders are under intense pressure to come up with a long-term solution to the debt problems straining the European Union to its breaking point.
But given the enormous challenges involved and the unpalatable options available to them, few analysts expect EU policymakers to announce any meaningful changes soon.
"There is no solution to the Euroland's sovereign debt crisis in sight," said Carl Weinberg, an economist at High Frequency Economics. "Markets will continue to be fundamentally unstable and volatile as long as we can think."
French President Nicolas Sarkozy and German Chancellor Angela Merkel gave it their best shot on Tuesday.
The leaders of Europe's largest economies announced proposals they said will encouraging fiscal discipline and increase economic competitiveness across the euro zone.
Investors were not impressed.
Stock markets across Europe fell Friday, extending Thursday's big sell-off. Shares in Frankfurt fell 3%, while the main market indexes in London and Paris were down about 1.5%.
"The market gave Merkel and Sarkozy their chance to stop the Euro crisis," said Clem Chambers, chief executive of European financial market website ADVFN. "Today it is responding to their inaction."
On Wall Street, stocks opened lower Friday, but losses were more mild, with shares of some technology companies regaining ground.
Shares of European banks have been hit particularly hard. Concerns about the banking sector flared Thursday following reports that an unnamed institution borrowed $500 million from one of the European Central Bank's emergency lending facilities.
Investors were hoping for more concrete measures to stabilize shaky government finances. They want to see a big increase in the size of the EU stability fund and many are calling for the creation of a so-called euro bond.
Sarkozy and Merkel dashed those hopes, saying the 440 billion euro stability fund is sufficient and a bond backed by the euro zone as a group would not solve all the region's debt problems.
The proposals the leaders did put forth -- requiring all 17 euro zone nations to commit to balanced budgets, giving the EU bureaucracy more fiscal authority and imposing some sort of transaction tax -- were widely seen as inadequate.
Analysts said serious questions remain about how effective the proposals would be and whether member nations will agree to them.
Jennifer McKeown, an economist at Capital Economics in London, said "decisive steps" towards a more uniform fiscal policy are necessary "if the currency union is going to hold together in its current form."
EU leaders have pledged to do what is necessary to protect the euro. And the latest rhetoric has been about fiscal "integration" and economic "convergence."
So far, the EU has responded to the debt problems in Greece, Portugal and Ireland by throwing billions of bailout euros at them in the hope that harsh austerity measures would do the rest.
As the crisis intensified over the last few weeks, the European Central Bank started buying Spanish and Italian bonds in a bid to prevent a broader debt contagion.
But the aggressive moves that investors are looking for would require fundamental changes in the business model, such as it is, of the European Union.
In essence, the larger EU economies will be required to shoulder more of the burden stemming from the fiscal indiscretions of their smaller neighbors.
That presents a difficult political problem for Germany and France, where voters must approve such measures.
"In the end," said McKeown, "the euro zone's strongest economies might decide that the potential costs of allowing the euro zone to fail, perhaps in the form of a banking crisis, are even greater than those of supporting it."