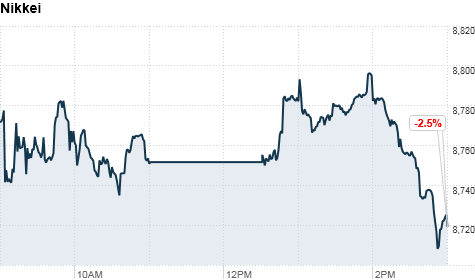 Click on chart for more world market data.
NEW YORK (CNNMoney) -- World stock markets fell Friday, following a bruising sell-off in global markets during the previous session. Asian stocks ended broadly lower, European stocks opened in the red and U.S. futures pointed to a down start.
Japan's Nikkei (N225) finished down 224 points, or 2.5%, at 8,719.24, near its low for the session.
In China, the Shanghai Composite (SHCOMP) ended with a nearly 1% loss. The Hang Seng (HSI) in Hong Kong tumbled 3.1%.
European markets began in the red Friday, adding to the 4%-5% drops seen the day before. London's FTSE 100 (UKX) lost 2.5%, Germany's DAX (DAX) slid 3.4% and the CAC 40 (CAC40) in France shed 2.9%.
U.S. stock futures pointed to a loss of more than 1.5%.
The sell-off in Asia and Europe markets came after stocks in the United States plunged Thursday, on renewed worries about a slowdown in global economic growth.
The Dow Jones industrial average (INDU) fell a whopping 419 points, or 3.7%, on Thursday to close just below 11,000. The S&P 500 (SPX) sank 4.4% while the Nasdaq Composite (COMP) lost 5.2%.
On Friday, investors continued to flock to investments that are seen as safer alternatives to stocks.

Gold rose $46.50 to $1,868.50 an ounce, after reaching a fresh record intraday high of $1,872.20 an ounce. The December contract set a settlement record Thursday of $1,822 an ounce.
Investors around the world have been rattled by signs the global economy is loosing traction.
Morgan Stanley said Thursday it has slashed its global growth outlook for 2011 and 2012, adding that the U.S. and Europe are "hovering dangerously close to a recession."
Economic reports released Thursday reinforced the sense of gloom. A key reading on the U.S.housing market came in worse than expected, along with a report showing a significant slowdown in the domestic manufacturing sector.
Meanwhile, investors remain unnerved by the debt crisis in Europe and the lack of a coherent policy response from the European Union.
French President Nicolas Sarkozy and German Chancellor Angela Merkel announced proposals Tuesday, that they say will help encourage fiscal discipline and promote competitiveness in the eurozone.
But investors had expected bolder moves, and analysts said serious questions remain about how effective the proposals would be if they were adopted.