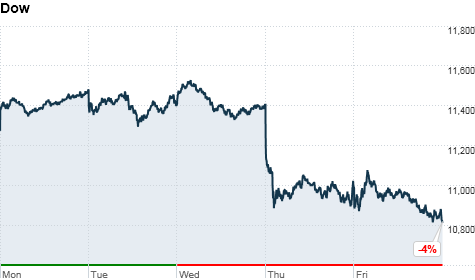 Click the chart for more market data.
NEW YORK (CNNMoney) -- U.S. stocks were slammed with another wave of late-day selling on Friday as investors were faced with disappointing news from Hewlett-Packard as well lingering issues with Europe's debt crisis and the future of the U.S. economy.
Friday's drop came after the Dow plunged more than 400 points on Thursday and added to what had already been steep declines for U.S. markets.
In all, it was another nasty week for U.S. investors, with the Dow, S&P and Nasdaq falling between 4% and 6% over the past five days.
On Friday, the Dow Jones industrial average (INDU) dropped 173 points, or 1.6%, to end at 10,818. The S&P 500 (SPX) lost 17 points, or 1.5%, to finish at 1,124 and the Nasdaq Composite (COMP) fell 39 points, or 1.6%, to 2,342.
The biggest drag on the blue chips was Hewlett-Packard (HPQ, Fortune 500), which dropped 20% on the day.
Hewlett-Packard disappointed investors Thursday after the company cut its full-year forecast, announced it was ending its tablet business and said it was looking to exit the consumer PC business as well.
World markets dropped for a second straight session, as global economic fears continued to build.
"Global markets remain rattled by a crisis that is fast morphing into a global banking and economic crisis on one side, and a very piecemeal policy approach to contain risks on the other," said Marc Chandler, global head of currency strategy at Brown Brothers Harriman.
Britain's FTSE (UKX) 100 index closed down 1%, the DAX (DAX) in Germany dropped 2.2% and France's CAC (CAC40) 40 sank 1.9%.
"People are remembering Lehman -- and are reacting accordingly," said Fred Dickson, chief market strategist with D.A. Davidson & Co.
Friday's global sell-off came a day after Morgan Stanley cut global growth forecasts, saying the U.S. and Europe are "dangerously close to a recession."
Adding to these concerns, Deutsche Bank downgraded its economic forecast for China, saying a slowdown or recession in the U.S. or European economies would be "the single most important shock to the Chinese economy," and could slow the nation's GDP growth to 7%.
In 2010, China's economy grew at a robust rate above 10%, and is forecast to grow more than 9% in 2011.
Meanwhile, JPMorgan Chase sliced its fourth-quarter U.S. GDP growth estimate to 1%, down from its previous projection of 2.5%. The bank also warned that the risks of a recession are "are clearly elevated."
"It's not a foregone conclusion that we're recession-bound, [but] clearly the U.S. economy is slowing," said Rob Lutts, chief investment officer with Cabot Money Management.
Investors continued to seek shelter in traditional safe havens, including gold. The precious metal jumped as much as $59.40 on Friday, bolting to a fresh intraday record of $1,881.40 an ounce before pulling back to a settlement record of $1,852.20.
On Thursday, the Dow fell more than 400 points, as renewed concerns about the U.S. and global economies send investors fleeing from equities.
Companies: Bank of America's (BAC, Fortune 500) stock edged lower, after the company announced it is cutting 3,500 jobs, in addition to the 2,500 jobs the bank eliminated earlier this year.
Gap (GPS, Fortune 500) shares were up 3% after the retailer reported better-than-expected results after Thursday's closing bell.
Currencies and commodities: The dollar firmed against the euro and British pound, and was flat versus the Japanese yen.
Oil for September delivery slipped 46 cents to $81.92 a barrel, having fallen as low as $79.17 earlier in the session.
Bonds: The price on the benchmark 10-year U.S. Treasury fell slightly, pushing the yield up to 2.09% from 2.08% late Thursday.
World markets: It was another tough day for Asian markets. Japan's Nikkei (N225) lost 2.5%, the Hang Seng (HSI) in Hong Kong tumbled 3.1% and the Shanghai Composite (SHCOMP) fell 1%.