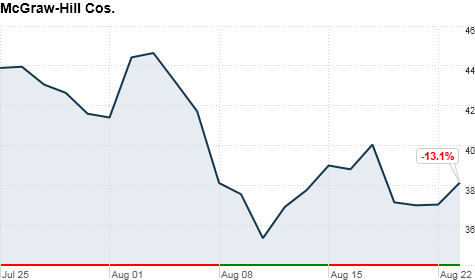 Click chart for more on McGraw Hill's stock
NEW YORK (CNNMoney) -- McGraw-Hill could be edging closer to a breakup.
Jana Partners and Ontario Teacher's Pension Plan -- two of the media conglomerate's minority shareholders -- said in an SEC filing late Monday that they had met with McGraw-Hill management and its board of directors to discuss a plan to break the company into four units.
McGraw-Hill's first move would likely to be a spin-off of its education unit, according to a person familiar with the situation.
Its information and media segments -- Standard & Poor's, McGraw-Hill Financial, and Business Information -- would remain together rather than follow the activist investors' plan, said the source.
But there's still a lot of uncertainty over whether a break up is in the cards. McGraw-Hill has only said that it hired investment banks Goldman Sachs (GS, Fortune 500) and Evercore (EVR) to explore a wide range of strategic alternatives.
In an official statement the company said that "McGraw-Hill enjoys an open dialogue with its many shareholders and often gets insights from those discussions."
While not commenting on specific discussions, McGraw-Hill's portfolio review is well advanced and expected to result in significant swift actions to accelerate global growth, align appropriate cost structures and build shareholder value.
If history holds any precedent, Jana Partners founder Barry Rosenstein is likely to get his way.
The privately held hedge fund, now with $2.3 billion in assets under management, has filed to take an activist shareholder role in 21 publicly traded companies, according to website Activist Database.
Rosenstein has actively pushed for a specific change at 13 of those companies, and all or nearly all of his demands were complied with in each instance.
"He's not an agitator," says Kenneth Squire, the founder of Investor Communications Network, who runs the website Activist Database. "Some activist investors shoot first and ask questions later. Barry talks to management first, asks questions and then shoots later if necessary."
Jana declined to comment.
While McGraw-Hill's (MHP, Fortune 500) shares have dropped 4.8% since Jana Partners and Ontario Teacher's Pension Plan announced their expanded stake in the company and pressure for a breakup on Aug. 2, shareholders have reason to be optimistic.
In 14 of the Jana's 21 activist holdings, Jana has added value, and across all of these investments, share prices increased 27% from when the hedge fund announced its stake to when it liquidated its position. (This increase also includes stakes the company currently holds and therefore current share prices).
Tuesday's news comes on the heels of McGraw-Hill's announcement that the president of ratings agency Standard & Poor's, Deven Sharma, is stepping down.
The move comes after a tough month for S&P during which it went through with a controversial decision to downgrade the United States' credit rating and revelations of an investigation by the U.S. Justice Department into ratings practices for mortgage-backed securities.
The statement did not give a specific reason for Sharma's departure, but said the company began looking for a new president after splitting the company in two in 2010.
Sharma, 55, will be replaced by Douglas Peterson, 53, who is currently chief operating officer of Citibank N.A., a subsidiary of Citigroup (C, Fortune 500).
-- CNNWires contributed to this report