Hot biz trend: The urge to purge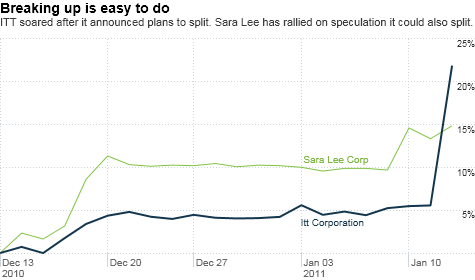 NEW YORK (CNNMoney) -- It's not me. It's you.
What's up with all the corporate break-ups lately? Is the age of the conglomerate dead? Probably not. But it is telling that more and more companies are coming to the conclusion that it's better to be smaller and nimble than a slow-moving Leviathan.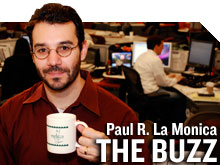 Of course, the urge to purge has been going on for several years now. Tyco split into three in 2007 following its accounting scandal. Barry Diller's IAC broke up into five companies (also in 2007). And my parent company Time Warner has spun off both its Time Warner Cable unit and AOL.
Still, the pace of corporate splits has really picked up in recent months.
ITT, which owns businesses ranging from industrial products and water filtration technology to night vision goggles for the military, announced Wednesday morning that it was splitting into three separate publicly traded stocks. Shares of ITT (ITT, Fortune 500) surged over 15% on the news.
This is sort of amusing since ITT already went through this before. It announced way back in 1995 that it would split into three companies.
I guess that even after shedding its insurance business (which is now Hartford Financial Services) and its hotel division (which eventually morphed into Starwood Hotels & Resorts) another round of corporate mitosis was needed.
Sara Lee is rumored to be considering a schism that would create separate businesses for its packaged meats and coffee units. There's also speculation that private equity firms may buy the company in order to break it up.
Either way, shares of Sara Lee (SLE, Fortune 500) are up more than 10% since the chatter started to pick up last month.
Other companies have announced break-up plans as well. But investor reaction hasn't been nearly as euphoric.
Fortune Brands, which owns Master Lock, the Titleist brand of golf equipment and Jim Beam bourbon, said last month it would split into three. Fortune Brands (FO, Fortune 500) shares are up only a little more than 2% since unveiling the plan.
Then there's the case of Motorola. The telecom equipment maker, after years of pressure from activist shareholders (including Carl Icahn), split into two companies last week.
Motorola Mobility (MMI) owns its stable of smartphones while Motorola Solutions (MSI) is the parent of the company's public safety equipment, such as two-way radios. Shares of both companies enjoyed a strong pop on their first day as separate stocks but have each fallen since then.
Nonetheless, experts think more such corporate divorces are likely in the coming months.
Antony Page, a professor of law at Indiana University School of Law-Indianapolis who focuses on corporate governance, said what's going on now is more of a "trend-let" than a true trend. But he does think more businesses are coming to grips with the fact that bigger isn't always better.
"There was this rage of forming conglomerates but eventually people realized it didn't work. Frequently, there were no synergies," said Page. "Some companies continue that conglomerate structure, but GE (GE, Fortune 500) is perhaps the only real successful long-term example."
Page said more companies should be considering spin-offs or other transactions. He mentioned Microsoft (MSFT, Fortune 500) as a company that is now so large and unwieldy that it might be better off broken up, but doubted it would happen.
Jeffrey Saut, chief market strategist for Raymond James in St. Petersburg, Fl., also thinks that some conglomerates should think about scaling back.
"If a company has done everything they can do and Wall Street is still unwilling to give them the valuation they deserve, then splitting up could be called for," Saut said. "The parts are worth more than the whole. That's always been the mantra."
Saut said there is a case to be made for breaking up IBM and Ingersoll-Rand, for example. But he didn't think either would likely do so.
Still, as long as stocks continue to rally (can you believe it's almost two years since the depths of March 2009?) corporations may find that getting rid of non-core businesses will be received warmly.
It's easier to spin (so to speak) a split as a transaction that will reward shareholders as opposed to being a white flag of surrender when the market is going up.
"If you have a corporate structure that isn't working, you need to make a change," said Mike O'Rourke, chief market strategist with BTIG, an institutional brokerage firm in New York. "Generally, break-ups tend to create more value."
-- The opinions expressed in this commentary are solely those of Paul R. La Monica. Other than Time Warner, the parent of CNNMoney, and Abbott Laboratories, La Monica does not own positions in any individual stocks.