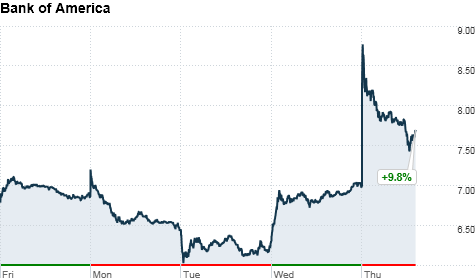 Click the chart for more data on Bank of America.
NEW YORK (CNNMoney) -- Bank of America finally caught a break.
Warren Buffett's Berkshire Hathaway announced a surprise $5 billion investment in Bank of America Thursday morning, sending shares of the struggling Dow component surging higher.
The investment is seen as a major vote of confidence from one of the world's foremost long-term investors.
"Bank of America is a strong, well-led company, and ... I wanted to invest in it," said Berkshire Hathaway (BRK) Chief Executive Warren Buffett, in a statement.
According to the terms of the deal, Bank of America will issue 50,000 preferred shares to Berkshire at a value of $100,000 each. The preferred shares will carry a somewhat hefty 6% annual dividend, paid out quarterly.
Berkshire will also receive warrants to purchase an additional 700 million shares of BofA over the next ten years at a strike price of approximately $7.14 per share. With BofA shares trading above $8.15 on Thursday, Buffett already made a roughly $1 billion profit if he were to activate his warrants today.
Bank of America (BAC, Fortune 500) shares have taken a beating on concerns the banking giant may need to raise capital to shore up its balance sheet. But the stock made a comeback Wednesday after influential analyst Meredith Whitney said Bank of America wouldn't need fresh capital.
Analysts said with the $5 billion investment, BofA won't likely need to raise any additional capital, if the bank even had to at all.
"While the investment is expensive and dilutive, it's an investment that will act as a bridge to get Bank of America through this uncertainty," said Erik Oja, a equity research analyst with Standard & Poor's.
The bank announced it would lay off 3,500 employees earlier this month, on top of the 2,500 layoffs that the company announced earlier this year.
Buffett has a recent history of being a lifeline for well-known companies at time of financial stress. He made a $5 billion investment in Goldman Sachs (GS, Fortune 500) in September 2008 at the height of the financial crisis. A month later he invested $3 billion in General Electric (GE, Fortune 500).
But investments from the "Oracle of Omaha" do not come cheap. Both GE and Goldman paid a rather large 10% annual dividend on Buffett's investment. Goldman only recently bought back the preferred shares it issued to Berkshire while GE plans to repurchase Buffett's preferred shares by October.