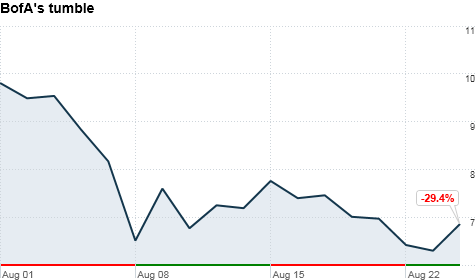 Click chart for more on Bank of America
NEW YORK (CNNMoney) -- Call it the Whitney effect.
Months after the one-time doomsayer on bank stocks sparked a mass exodus from the municipal bond market, Meredith Whitney told Bloomberg Radio Wednesday that there's no urgency for Bank of America to raise capital.
Her pronouncement sent shares of the battered bank soaring nearly 11% Wednesday. The gains spilled over to other banking stocks, with shares of Goldman Sachs (GS, Fortune 500), JPMorgan Chase (JPM, Fortune 500) and Citigroup (C, Fortune 500) rising between 1.7% to 2.8%.
By midmorning, shares of Bank of America (BAC, Fortune 500) eased off earlier highs, trading up 8.49% to $6.82, marking the stock's first day in positive territory in weeks.
The stock has gotten hammered with shares down roughly 40% over the past month compared with a 15% drop in the S&P 500 (SPX).
Bank of America CEO Brian Moynihan and representatives for the company continue to tell the market that the bank has a comfortable cash cushion, yet the stock has persistently sold off on rumors to the contrary.
Meredith Whitney, founder of the eponymous Meredith Whitney Advisory Group, also told Bloomberg that Moynihan is "the right guy for the job."
Formerly a banking industry analyst with Oppenheimer funds, Whitney gained influence when she made several prescient claims about a coming collapse of banking stocks, particularly Citigroup, in 2007 ahead of the financial crisis.
Her prediction in late 2010 that the municipal bond market would see hundreds of billions of dollars in default were taken seriously by investors who quickly pulled money out of this market.
So far, there's been only a modest uptick in municipal bond defaults.
Whitney was unavailable for immediate comment.
Whitney's call on Bank of America comes as Raymond James analyst Anthony Polini reiterated his 'strong buy' rating on the Charlotte, N.C., bank, citing its "distressed valuation."
JPMorgan also upgraded Bank of America's stock Wednesday to 'neutral' from 'underweight.'
In its report, JPMorgan, however, urged the bank's management to address concerns in the credit market and said that pressure on Bank of America's stock and bonds could actually "increase the chances of a credit-positive development, such as a capital raise."
Earlier this week, a Bank of America spokesperson told CNNMoney that it was not considering a capital raise at this time.