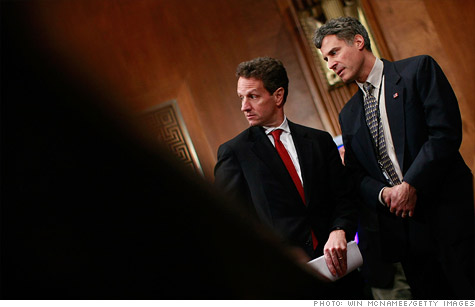 Princeton Economist Alan Krueger is tapped to join President Obama's economic team.
WASHINGTON (CNNMoney) -- President Obama on Monday nominated Alan Krueger to run his Council of Economic Advisers, moving to fill an important vacancy on an economic team that has undergone a nearly total makeover.
Krueger, 50, a Princeton University economics professor, would step up to the vacancy created by the departure of Austan Goolsbee.
Goolsbee, a long-time Obama adviser, announced his return to the University of Chicago earlier this summer. (Watch video: Austan Goolsbee's swan song)
"As one of the country's leading economists, Alan has been a key voice on a vast array of economic issues for more than two decades," Obama said in a statement.
The appointment comes at a critical time for the administration. Obama is planning to make a much-anticipated speech next week to propose ways Washington could help the fragile recovery.
"Given the focus of the administration on jobs and unemployment, he's the ideal choice for the position," said Morris Kleiner, a labor economist and professor at the University of Minnesota who has collaborated with Krueger.
Last fall, Krueger left the Obama administration, where he had worked as assistant Treasury secretary for economic policy during the financial crisis.
At the Treasury Department, he worked on an effort to spur small business credit and the Build America Bonds program, which made it cheaper for cities and municipalities to issue bonds to kick-start new construction projects.
According to the White House, Krueger also played a role in the cash-for-clunkers program, which aimed to spur car sales by offering cash stipends to consumers who bought more energy-efficient vehicles.
Krueger is the "leading labor economist of his generation," said Michael Barr, a former assistant Treasury secretary who worked alongside Krueger.
"He's got a sharp intellect, and he's terrific at seeing the downside risks and potential costs of different policy outcomes," said Barr, now a law professor at University of Michigan.
Krueger also won't by shy about offering a contrary opinion in high-level policy debates, Barr added.
Krueger, affiliated with Princeton since 1987, served as chief economist at the U.S. Department of Labor from 1994 to 1995.
If confirmed by the Senate, Krueger would be Obama's third person to chair the Council of Economic Advisers. Goolsbee had taken over for Christina Romer, who stepped down last September.
Treasury Secretary Tim Geithner is the only remaining member of Obama's original economic brain trust.
A labor expert, Krueger has a long record of academic writing, often focusing on unemployment.
Two examples: Earlier this year, he worked with a Stockholm University professor on a report that found the unemployed spend less time on their job searches the longer they're without work. And in 2007, Krueger reported that workers who tend to have more interaction with co-workers are happier on the job.
"He's clearly not an ideologue; rather he's someone who looks very carefully at the information before coming to a decision," said Kleiner, the labor economist who has co-authored papers with Krueger.
Republicans on Monday wasted no time lambasting Obama's choice.
The Republican National Committee criticized Krueger for a 2009 New York Times article he wrote proposing a 5% value-added tax on goods -- a move that could raise $500 billion a year.