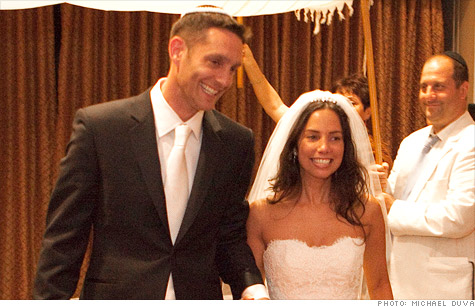 Erica and Brett Weiss were married at their rehearsal dinner Friday night, right after they found out that their wedding venue would be closed due to Hurricane Irene.
NEW YORK (CNNMoney) -- Erica Sternin Weiss should be honeymooning in Tahiti right now. But because of Hurricane Irene, her wedding and honeymoon were cancelled.
"I was supposed to get married on Saturday in a waterfront park in New Rochelle, N.Y. at 6:30 p.m.," Weiss said. "On Friday night, our venue called and explained that the county was forcing them to close and our wedding was canceled."
They say it could have been worse, but for brides like Weiss, Hurricane Irene's impact was particularly bitter.
Long after the floods dissipated and fallen trees were cleared, the storm left an emotional and logistical toll for those who planned a wedding last weekend.
On wedding planning site TheKnot.com, there were 6,031 weddings planned for Aug. 26 through Aug. 28 in areas affected by the hurricane. Most of those areas were in pricey East Coast venues like Manhattan, where the average tab is a whopping $70,000. Things are much more reasonable -- yet still pricey -- outside of New York. The average cost for a wedding nationwide is $26,984.
And rescheduling those nuptials on such short notice can be tricky as well as costly, noted Anja Winikka, TheKnot's site editor.
Couples will likely lose money on their deposits and for perishable items like food and flowers, Winikka noted. Before the actual day, most couples have already paid upfront for at least 80% of the total cost, explained Samantha Goldberg, an event designer in New Jersey.
Goldberg was planning a wedding for a couple in Brooklyn, N.Y. which had to be postponed, as well. Despite negotiating with vendors on an alternative date, the bride was still unable to recoup some of the sunk costs, including $6,000 for candy apples that were supposed to be delivered from Atlantic City, N.J., an area that was under mandatory evacuation on Saturday.
It may also be difficult to find another available date, especially with venues that typically book up to a year in advance.
"You are probably going to have a wedding on a day you didn't expect and it might be a Wednesday," Winikka said.
For Weiss and her fiancé Brett, that meant getting married that Friday night. The couple changed their rehearsal dinner into a wedding with less than two hours notice. They wore their gown and tuxedo and were married in front of 100 of their friends that could still make it.
They also rescheduled their flight to Tahiti for the next Saturday -- after about 36 hours of coordinating with the airlines and hotels. "We cannot wait," she said enthusiastically of the upcoming trip.
On the bright side, "if rain on your wedding day is good luck, then I think we're starting this thing off in a pretty good place," Weiss said of her new marriage.