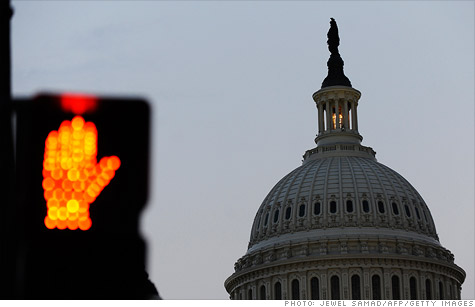 No help to be had here.
NEW YORK (CNNMoney) -- Washington is not helping the economy. In fact, the opposite.
The economy is in the dumps and job creation has dried up. The best data indicates there is a significant risk of the economy falling into a second recession.
And what has the 112th Congress done about it?
Pretty much nothing. Congress has passed only a handful of laws since the current legislative session started in January. There have been no significant efforts to fix the economy's underlying problems -- tepid job creation and a dysfunctional housing market.
And worse than doing nothing, the actions of lawmakers are helping create the kind of uncertainty abhorred by business leaders, experts say. Two prime examples: The battle over funding federal agencies that brought the government to the brink of a shutdown. And the congressionally-created debt ceiling crisis.
"What they have done is legislate uncertainty -- and who needs this? They should just go home and sleep," said Michael Cheah, a bond fund manager and adjunct professor at New York University. "This is not lawmaking. I don't even know what to call it."
Before they took most of August off, lawmakers this summer focused almost singularly on a fight over raising the debt ceiling -- a legislative maneuver needed to ensure the government could pay its bills on time.
The process still hasn't wrapped up -- a committee is currently trying to figure out how to slash more federal spending. But the debate exposed Congress as dysfunctional and incapable of compromise, to the detriment of consumer and business confidence.
The process "clearly contributed to a downward spiral in confidence," said Norman Ornstein, a resident scholar at the conservative American Enterprise Institute. "It was terribly destructive. All you have to do is look at what Standard & Poor's said and what [Fed Chairman] Ben Bernanke said."
Indeed, Standard & Poor's made that point quite plainly when it downgraded the U.S. credit rating for the first time in history.
"The political brinkmanship of recent months highlights what we see as America's governance and policymaking becoming less stable, less effective, and less predictable than what we previously believed," the rating agency said.
Message to business: Washington can't help itself, let alone the economy.
For his part, Bernanke made clear that Congress needs to get its act together: "The negotiations that took place over the summer disrupted financial markets and probably the economy as well," he said last month.
In fact, several legislative efforts that enjoy a measure of bipartisan support have failed to clear Congress. Free trade agreements, patent reform and plans for an infrastructure bank -- all designed to spur economic growth -- are still pending.
There is still a chance some stimulus will make it through Congress. President Obama will make the case Thursday night for a package of as much as $400 billion in spending and tax cuts to jump-start growth.
Obama's proposal is expected to include new infrastructure spending, targeted tax cuts and payments to local and state governments.
One problem: A large part of the plan's spending is needed just to continue current law -- something that will provide no boost.
According to a draft proposal of the plan, $120 billion would be spent to extend the payroll tax cut that has boosted the size of workers' paychecks this year. And $50 billion would be spent on unemployment insurance.
The expiration of those programs could slow the economy. But at the same time, their extension will not provide any additional stimulus.
The most likely outcome appears to be the status quo.
"Congress is neither going to jolt the economy back into robust recovery or send it into a double-dip recession," said Sean West, director of U.S. political risk at the Eurasia Group. "We're in a policy status-quo zone."
With Congress seemingly unable to agree on what the economy needs to get back on the right track, lawmakers have relegated themselves to the sidelines at a crucial time.
"The gridlock has only harmed things to the extent that it's created uncertainty, because Congress has done virtually nothing else," West said.