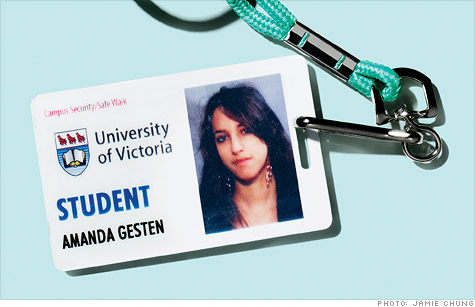 To save money, Amanda Gesten headed north to the University of Victoria in Canada. Click the photo to find out how much Gesten and other students saved using these strategies.
(MONEY Magazine) -- -- Higher-education reform may be moving forward slowly, but your child is growing up fast.
These four strategies will help you finance a degree -- without wrecking your retirement.
Know your true costs
Since colleges don't reveal financial aid packages until after a student is accepted, families often shop blindly, not knowing which schools they can really afford. That's about to change.
Starting in October, all colleges must provide online calculators that estimate how much a family will pay after deducting grants and scholarships at that particular school.
Regard the results as a rough estimate, not a precise indic n ation of the amount of aid your child will get or how much will be in grants vs. loans. As Mark Kantrowitz, head of Finaid.org, says, "The calculator is likely to tell you if a particular college is in your financial ballpark, but not whether your aid package will get you to first base or home plate."
How to proceed: Use the calculators to identify schools that might be more affordable than you thought. Then, if you need a more accurate appraisal before your child decides whether to apply, talk to the institution's financial aid officer -- some colleges offer an early estimate.
If your child receives an aid offer that includes loans, use the calculator at finaid.org to determine the size of the monthly payments. To be affordable those total payments (be sure to multiply by four) should not exceed 10% of your child's expected monthly income after graduation.
Someone repaying $25,000 in loans at 6.8% over 10 years, for example, would need to earn at least $34,500 to afford the monthly payment of $288.
Stir up competition
Colleges are often willing to pony up more aid to entice their best applicants to choose them over other schools. Elite colleges such as Harvard and Cornell are forthright about it, promising to match better financial aid offers from other top-ranked schools.
Even colleges that don't publicize matching offers often make them, according to David Lang, an economist at Sacramento State University. In an informal survey of 10 public colleges, financial aid officers at half told him privately they had matched competing offers. And Lang found that students who were accepted into two similarly ranked colleges got about 15% more aid than those who got into just one.
How to proceed: Your child should apply strategically to schools to set the stage for aid negotiations later. The list should include several colleges where his grades and SAT score rank in the top 25% of students, advises Lynn O'Shaughnessy, author of The College Solution.
Children from families unlikely to qualify for need-based aid should also include one or two colleges that award lots of merit aid (to find them, go to collegedata.com). More than one "reach" school can be in the mix as well.
Once the student has a few offers, you can try to set off a little aid bidding war --smartly and politely, O'Shaughnessy says. Start with a call or letter to your child's first choice college.
"You shouldn't say you want to 'negotiate.' Say: 'My son would like to go here, but financially it would be tough for us. What do you suggest?' "
Schools may ask for evidence, such as medical bills, that you really can't afford the price. At that point, introducing a better financial aid offer from a competing college can also be persuasive -- emphasis on competing. Carnegie Mellon won't try to match Podunk U.
Look abroad for bargains
The cost of attending some top foreign schools can be as little as half the sticker price of out-of-state public universities or private colleges in the U.S. Scotland's University of St. Andrews, alma mater of Prince William, costs about $37,000 this year (not counting travel).
Many well-respected Canadian public universities -- the University of Alberta and the University of King's College, among them -- cost only about $26,000 a year. And while some of the best British schools like Cambridge charge near-Harvard tuition prices, many are structured to get students to a degree in three years.
How to proceed: To find an international college with a name that will resonate with future employers, start with rankings published by "Times Higher Education," a British publication (you can find the top schools at timeshighereducation.co.uk/world-university-rankings/), QS (topuniversities.com), an international college fair organizer, or, for Canadian colleges, "Maclean's" magazine's site (oncampus.macleans.ca/education).
Differing admissions standards can give some American students better chances to get into top overseas colleges. Some Canadian colleges, for example, pay little attention to sophomore grades and generally wait to see the first semester of applicants' senior year, a big advantage to late bloomers, says Whitney Laughlin, an independent college consultant in Victoria, British Columbia.
Bear in mind, however, that there are far fewer scholarships for Americans studying overseas than for those who stay home. Federal loans for either parent or student borrowers can be used at only 462 international colleges approved by the Department of Education (for information on these loans and the list of schools, go to ifap.ed.gov and search for the "school code list").
Make a midway switch
A growing number of community colleges offer direct pipelines to elite public and private schools, as long as students take prescribed course loads and maintain good grades (typically at least a "B"). Cornell and Syracuse, for instance, have guaranteed admission pacts with certain community colleges, as do public universities in Colorado, Connecticut, New Hampshire, and Virginia, among other states.
Some highly-ranked private colleges such as Bucknell, Dickinson, and Lafayette are starting to actively recruit community college students, partly because of a recent drop in the number of 18-year-olds and to fill spaces left by students taking junior year abroad.
For students who successfully make the switch, the savings can be enormous, cutting tuition costs for the first two years of school to around $6,000, the average charge at community colleges.
How to proceed: This path isn't for every high school senior: A study by former Princeton president William Bowen found that "A" students who start at typical community colleges are 36% less likely to get a four-year degree than similarly qualified students who start at a university.
The most successful students tend to be very motivated, attend community colleges with well-run transfer programs, and take advantage of honors classes, says Alicia Dowd, co-director of the University of Southern California's Center for Urban Education. (Find a list of schools with honors programs at nchchonors.org/memberinstitution.shtml.)
To pick the right community college, students should ask the admissions office how many graduates transfer to four-year schools, and which universities have "articulation agreements" that promise to count the community college's courses as university credits.
These days the only way to keep a college education within reach is with a little creative thinking and a keen eye on costs. That's a critical lesson that the colleges themselves are just beginning to learn.

What a degree really costs
When it comes to college prices, what you see isn't necessarily what you get. Look beyond a school's sticker price to see how much households in your income bracket (HHI, below) typically pay after factoring in grants and scholarships. For help, you can use the net price tool at cnnmoney.com/collegecosts.
College
Total cost of attendance

(in-state)

% of students who paid full price
Average net price

HHI $75,000 to $100,000 (and receiving federal aid)

Average net price

HHI over $110,000 (and receiving federal aid)

Marquette University
$39,600
22%
$24,900
$29,700
Middlebury College
$52,500
52%
$21,700
$36,200
Princeton University
$49,800
43%
$16,510
$24,600
University of Georgia
$16,800
25%
$10,600
$10,900
University of Texas at Austin
$21,900
51%
$20,200
$21,000
NOTES: All data are for the 2008-09 academic year, the latest year available; federal aid includes Stafford student loans.
SOURCES: Department of Education