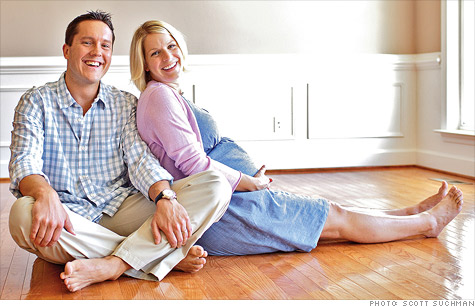 Going to one income changes the math for these soon-to-be parents Tanya and Mike Murray of Leesburg, Va.
(MONEY Magazine) -- In the space of a year, Tanya and Mike Murray bought a house, became landlords, got pregnant, and shifted to one income. Now that they're catching their breath, and waiting for baby, they wonder if they made the right money moves.
In spring, the Murrays upgraded to a 2,800-square-foot, $410,000 townhouse in Leesburg, Va. They opted to keep their old condo as an investment, but so far it's been a cash drain: It's rented for $2,095 a month, but expenses run nearly $3,000.
Then, in July, Tanya, 31, quit her $90,000-a-year communications job to be a stay-at-home mom.
"We're barely breaking even on my salary," says Mike, 32, a senior director of business development at a consulting firm who earns $93,000. He qualifies for hefty bonuses, but they're not guaranteed.
Though the couple used to sock away $3,000 a month for retirement, Mike put his 401(k) on hold in the spring to pay for new home expenses, and Tanya stopped saving when she quit work.
Having a baby will be an adjustment for the Murrays. Luckily, they can reduce the money stress with a few easy moves, says New York financial planner Dawn Brown.
Goals
• Pay off the condo mortgage and keep it as a rental property
• Live on one income so Tanya can be a stay-at-home mom
Assets
• $197,000 for retirement
• $66,000 in home equity
• $16,600 cash
Liabilities:
• $729,000 in mortgages
• $54,000 car, student loans
The solution
1. Sell the condo.
"The point of an investment is to make money," says Brown. But the Murrays' apartment loses nearly $800 a month, not including maintenance and repairs.
Plus, they risk having to fork over as much as 42% of their income on mortgages if they lose a tenant. Getting rid of the condo -- which is valued at $385,000 and has $340,000 outstanding on the mortgage -- would loosen their budget.
2. Be ready for downtimes.
With only one income -- one fluctuating income -- the Murrays need at least six months of living expenses in cash, says Grand Rapids financial planner Ryan Sheffer.
They have just $16,600 in savings, some of which they planned to use for furniture. Gains from the condo (along with some of Mike's next bonus) would get them the $35,000 they need.
3. Re-up retirement.
Mike should put $12,000 or so a year in his 401(k) and use his bonus to max it out. They can stash $5,000 a year in a nonworking spousal IRA for Tanya.
If their income is less than $169,000, they can deduct the latter contribution. If not, they can still use this IRA for the tax deferral on investment gains, says Brown.