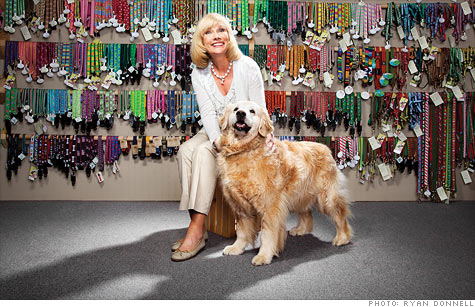 Lesley Bowers, 62, Lewes, Del. Then: Radio station ad sales manager. Now: Owner of a pet accessories store.
(MONEY Magazine) -- When the industry she knew started going to the dogs, Lesley Bowers decided to follow suit. After 20 lucrative years in radio sales -- at her peak, she doubled her $100,000 salary with a bonus --she began tiring of the pressure. "It was becoming too bottom-line driven," she says.
After deciding to quit, the devoted dog owner began tossing around the idea of a pet accessory boutique. Setting an example for a college finance class she was teaching at Howard University in 2004, Bowers wrote up a business plan.
A year later she opened P.U.P.S. ("Pawsitively Unique Pet Shop") of Lewes, which carries everything from organic treats to NFL team collars.
This year she expects sales of $250,000 and will take a salary for the first time -- about $20,000. It's been a big shift, but Bowers wasn't unprepared: "I'd never opened a store," she jokes, "but I had changed formats in radio."
How she did it
1. By minimizing her investment.
Starting out with a tiny 250-square-foot space -- and rent of $650 a month --Bowers took just $10,000 from savings for inventory and overhead. Her husband, Sam, a TV ad salesman turned carpenter, handled renovations.
2. By keeping her second job.
Bowers still teaches at Howard, taking in $36,000 a year. With their house paid for and her stepchildren grown, that income plus Sam's carpentry earnings covers the couple's expenses, allowing her to reinvest most of her earnings.
3. By marketing creatively.
Bowers devised inexpensive attention-getting events. Among them: an annual BarkFest (including a pet pageant), a Yappy Hour (complete with Mutt-inis), and even a dog reenactment of the royal wedding (the town mayor officiated).
Send The Help Desk questions.