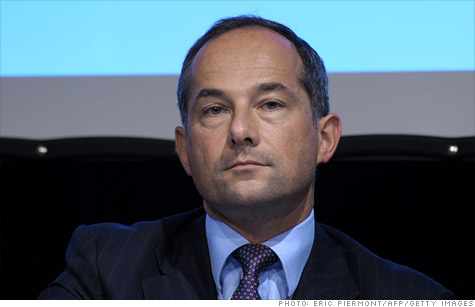 Societe Generale chief executive Frederic Oudea told Wall Street analysts Friday that Europe's debt problems are 'manageable' for the French bank.
NEW YORK (CNNMoney) -- French banking group Societe Generale has been at the center of the recent turmoil over the deepening sovereign debt crisis in Europe.
But the bank went on the offensive this week, arguing that its exposure to Greece and other fiscally challenged eurozone nations is "manageable."
"It's fair to say we've been effectively subject to some rumors, in particular in August, and again in these irrational markets, or at least with a lot of fears," said SocGen Chief Executive Frederic Oudea.
The bank's stock rebounded Tuesday, jumping nearly 15% in Paris after plunging nearly 11% Monday. Shares of BNP Paribas and Credit Agricole, the other main French banks, also regained ground, after falling between 10% and 12% on Monday.
But shares of all three banks are still down about 50% so far this year.
Speaking at an investment conference Tuesday in New York, Oudea said he wanted to address "perceptions" in the markets with "facts and figures" about the bank's exposure to potential losses on loans to struggling European governments.
Oudea reiterated comments made Monday that SocGen has about 4.3 billion euros worth of exposure to bonds issued by Greece, Italy, Ireland, Portugal and Spain, commonly known as the PIIGS.
That works out to less than 1% of the banks' overall balance sheet, said Oudea.
Oudea acknowledged that the bank will probably suffer some losses related to its banking subsidiary in Greece, which has about 3.3 billion euros in loans. But he said the bank could easily absorb a significant write down of its 900 million euro Greek bond portfolio.
"I don't consider it an issue for SocGen," he said.
Analysts also said SocGen's exposure to Greece is not a major liability.
"By a lot of metrics, its exposure doesn't look that bad," said Erin Davis, an analyst at Morningstar who covers French banks. SocGen could "easily manage" a 50% reduction in the value of its portfolio of Greek bonds, she added.
"There's not an accounting reason why everyone's picking on SocGen," she said.
However, in addition to concerns about shaky sovereign debt, investors have been rattled by signs that some European banks have been struggling to obtain short-term financing in U.S. dollars.
Interbank lending rates have risen this summer, although they remain well below levels seen during the 2008 crisis. In addition, analysts say some U.S. banks and money market funds have pulled back on dollar loans to European banks as the crisis has intensified in recent weeks.
Oudea said the SocGen has "abundant" short-term funding in euros, and has "actively managed" its short-term borrowing in dollars. He also stressed that the bank has been "disposing" of dollar-denominated securities in its portfolio of assets backed by commercial and residential mortgages, which it accumulated before the 2008 financial crisis.
In addition, SocGen has over $34 billion in cash deposited at the Federal Reserve. It also has a buffer of 105 billion euros worth of "unencumbered" liquid assets, according to Oudea.
"I think we are able to manage our liquidity," he said.
Oudea's comments came one day after SocGen announced plans to speed up certain asset sales and cut jobs in an effort to save costs. The bank is also trying to transform itself by reducing leveraged assets and restructuring its commercial and investment banking business.
The moves are necessary for SocGen to adapt to a new landscape marked by heightened risks, said Oudea.
The changes failed to assuage nervous investors Monday, even though the company's stock price recovered Tuesday.
"SG's pledges on asset disposals did not reassure the market, which remains concerned about macro/funding tail risk," said Thibault Nardin, an analyst at Morgan Stanley, in a research report.
Nardin said French banks still face "strong headwinds" given the weak economic backdrop and rising funding costs.
Davis said European banks are generally less well capitalized than U.S. banks, and that SocGen in particular is considered one of the more risky bets among French bank stocks.
"SocGen's problems are related to being perceived as having weaker risk controls and worse management oversight," she said.
In 2008, SocGen made headlines in the United States after a rouge trader named Jerome Kervile carried out a historic $7.2 billion fraud.