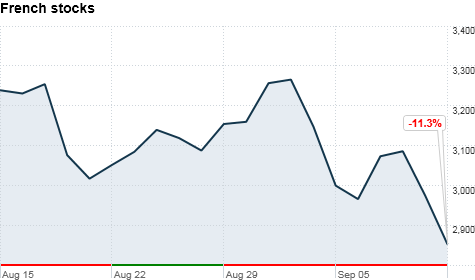 Click on chart to track world markets
NEW YORK (CNNMoney) -- European markets plunged Monday amid continuing concerns that Greece might default on its loans and Moody's Investors Service might downgrade a number of French banks.
"Top French banks are bracing for credit rating downgrades on worries about their sovereign debt exposure," wrote Brown Brothers Harriman analyst Marc Chandler in a client note.
A potential Greek default also continued to rattle global markets Monday, extending Friday's slide.
The Nikkei (N225) in Japan closed down more than 2% and the Hang Seng (HSI) in Hong Kong plunged 4.2%. London's FTSE (UKX) dropped 2% and the DAX (DAX) in Frankfurt fell 3% while the CAC 40 (CAC40) in Paris plummeted nearly 5%.
"Indeed, concerns about a Greek sovereign default was the main market driver on Friday, although the G7 headline also disappointed those that were expecting some kind of coordinated action over the weekend," wrote Deutsche Bank analysts Jim Reid and Colin Tan.
The Group of Seven, finance officials from the world's largest industrialized nations, met in Marseille, France on Friday and pledged to work together to support the anemic global economy. But it did little to alleviate market concerns.
Traders fear that Moody's could slap new downgrades on French banks like Credit Agricole SA, BNP Paribas SA and Societe Generale (SCGLF). The concerns are driven by the fact that Moody's put all these banks on review for possible downgrade on June 15, and the 90-day window on that review is about to expire.
But a Moody's spokesman downplayed the significance of the 90-day window. "We strive to conclude reviews within 90 days," said the spokesman, from his London office. "[But] certain circumstances might warrant a longer review period."
France has a relatively high level of sovereign debt, and its borrowing costs have risen as contagion moved from peripheral eurozone countries such as Greece and Portugal to stronger nations that serve as the financial backbone of Europe
But the sector has been rocked before by these concerns. French banks sold off back in August, even as rating agencies insisted that France's AAA rating was not in peril.
This is just the latest bad news in what has been a nasty year for the European markets. The CAC 40 has belly flopped 25% year-to-date, while the FTSE has fallen more than 13% and the DAX has tumbled 27% in that time period.