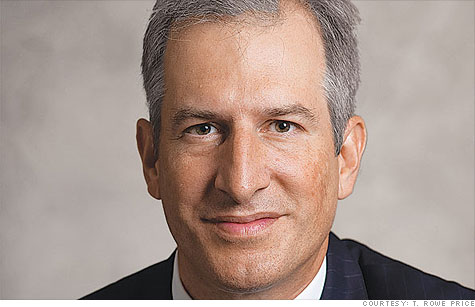 Larry Puglia, manager of T. Rowe Price Blue Chip Growth since 1993.
(MONEY Magazine) -- These are tough times for investors who favor fast-growing companies. With the economy stalling, identifying high-quality businesses that can deliver strong profit growth is harder than ever.
It's a challenge that Larry Puglia is quite familiar with. Puglia has led T. Rowe Price Blue Chip Growth (TRBCX) (a member of our MONEY 70 recommended list) since 1993, a period that includes both boom and bust.
Puglia spoke with MONEY editor-at-large Penelope Wang.
The markets have really been rocky lately. How worried do you think investors should be about the economy?
Generally speaking, volatility creates buying opportunities. And I think this will end up being a good example of that principle.
That said, this time around there are perplexing components that I've never seen before during my 18 years as a fund manager -- questions over sovereign-debt issues in Europe and the intractable problems in the U.S. debt negotiations.
What does that uncertainty mean for profits and economic growth?
Earnings in the second quarter were quite strong, though not as strong as in the first quarter.
The economy and profits could be headed for a meaningful slowdown. It may not technically end up being another recession, but it will feel a lot like one.
Do you think fast-growing companies can still be found in this economy?
There are a number of tech companies that we think will continue to deliver profits, even in a flat economy. Google (GOOG, Fortune 500) is successfully turning clicks into ad sales on multiple platforms, including mobile phones and YouTube. Apple (AAPL, Fortune 500) , our largest position, saw its revenue grow 82% in the most recent quarter. We also think China will be adopting the iPhone and iPad in a meaningful way.
Is that where the growth is -- abroad, in places like China?
Growth is probably slowing not just in the U.S. but on a global basis.
However, to the extent that growth is stronger in markets outside the U.S., we can access that by owning companies with significant operations abroad.
Send The Help Desk your questions about mutual funds.
Over 40% of the revenue and earnings for our portfolio holdings are generated outside the U.S. And exposure to Asia is an important growth driver for holdings in a variety of industries -- for example, McDonald's (MCD, Fortune 500), Starbucks (SBUX, Fortune 500) , and United Technologies (UTX, Fortune 500).
Two of those three are consumer companies. Aren't these types of stocks vulnerable in an economic downturn?
Some consumer discretionary stocks are well positioned for a downturn. Even if we go into a recession, people will be looking to Priceline (PCLN) for ways to stretch their travel dollars. We also like Polo Ralph Lauren (RL, Fortune 500) . Its sales from abroad grew 60% in the most recent quarter, thanks to rising demand for high-end merchandise in fast-growing countries.