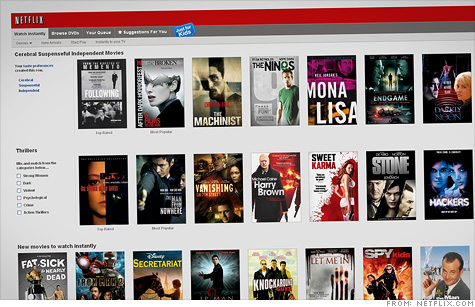 NEW YORK (CNNMoney) -- Netflix subscribers threatened to flee in droves when the company whacked them with a surprise price hike, which kicked in this month.
Now they're making good on that threat. Netflix on Thursday cut its subscriber forecast for the current quarter, saying it now expects to end the period with 24 million customers -- down from the 25 million the company forecast just a few weeks ago.
That's also down from the 25.6 million global subscribers Netflix had on June 30, the end of its second quarter.
Investors punished the stock, sending Netflix (NFLX) shares down nearly 19% -- even though the company did not change its earnings or sales guidance.
The writing has been on the wall since July, when Netflix angered many subscribers by saying it would begin charging separate prices for its DVDs-by-mail and streaming video plans. That amounted to a big price hike for Netflix customers, as the cheapest-possible bill for customers who want both services jumped from $10 to $16 a month.
Enraged customers flooded Netflix's site with tens of thousands of comments, as well as a barrage of tweets under the hashtag #DearNetflix.
Angry subscribers aren't good for business, of course, but even more concerning are the reasons for the price hike. Netflix is struggling to build and maintain a robust streaming catalog, but that's getting tougher as studios demand more money and threaten to take their content to Netflix's growing list of rivals.
As a result, customers have been complaining about a smaller selection -- and asking why they're paying more for less. Earlier this month, cable network Starz ended contract renewal negotiations with Netflix and will pull its movies and TV shows from Netflix early next year. It highlights the sometimes contentious relationship that Netflix has with content owners such as Sony (SNE), Walt Disney (DIS, Fortune 500) and Time Warner (TWX, Fortune 500), the parent company of CNNMoney.
Now that streaming video is so popular, providers are upping the price for the content they're licensing to Netflix. One analyst predicts that Netflix's streaming content licensing costs will rise from $180 million in 2010 to a whopping $1.98 billion in 2012.
"There may be a renewed sense of urgency for Netflix to go out to acquire film and TV content to replace Starz," says Anthony DiClemente, Internet and media analyst at Barclays Capital, which owns Netflix stock.
"To keep subscribers, or lure them back, you need offer them value at a good price," DiClemente adds.
Netflix's competitors have become a bargaining chip for studios: If Netflix won't pay studios what they think their content is worth, they'll simply take their business elsewhere.
Beyond direct rivals like Hulu and kiosk service Redbox (owned by Coinstar (CSTR)), big tech players like Amazon (AMZN, Fortune 500) and Google (GOOG, Fortune 500) are jumping into the streaming game. Cable providers including DISH Network (DISH, Fortune 500) are also ramping up streaming, on-demand options.
Despite its growing list of problems, Netflix has been one of the hottest-performing tech stocks of the past few years. Shares are up a staggering 460% since 2008.
DiClemente, the Barclays analyst, is still bullish on Netflix shares. He now predicts that the U.S. subscriber base will recover to 28.8 million by the end of the year -- though that's lower than the 30 million he had projected.
Netflix had been adding subscribers "radically," he says, noting that in recent quarters the company's revenue has been up about 40% to 50% year-over-year -- which gives it a fatter wallet for snapping up new content.