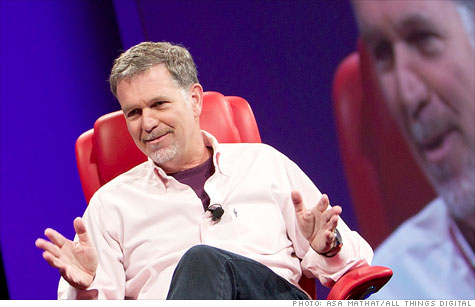 Netflix CEO Reed Hastings
NEW YORK (CNNMoney) -- When you're a new tech company with a cool product, life is good. But once you become an industry leader, pleasing people is a lot tougher. Just ask Netflix.
Netflix enjoyed a strong second quarter, but it wasn't good enough to satisfy investors on Monday. And the company spent much of its earnings release discussing problems -- namely, a recent price hike that launched thousands of online complaints.
Although Netflix (NFLX) reported earnings of $1.26 a share, easily topping estimates from analysts polled by Thomson Reuters who expected $1.11 a share, sales missed forecasts.
Revenue rose 52% to almost $789 million. Analysts were predicting sales of $791 million. The stock fell more than 10% Tuesday on the news.
Customers reacted angrily when Netflix announced earlier this month that it's hiking prices on plans that include DVDs and streaming, in a move that highlights the company's shift from physical discs to online video.
"It is expected and unfortunate that our DVD subscribers who also use streaming don't like our price change, which can be as much as a 60% increase," Netflix said in its earnings release.
The company acknowledged that "some subscribers will cancel Netflix or downgrade their Netflix plans, [but] we expect most to stay with us."
Analysts asked several questions about the price hike on a post-earnings conference call. One question noted the thousands of comments on Netflix's own blog announcing the new pricing strategy, as well as tweets under the hashtag #DearNetflix.
But the social media "noise level was actually less than we expected, given a 60% price increase for some subscribers," said Reed Hastings, the CEO of Netflix. "We knew what we were getting into."
Netflix warned that it "will see only the negative impact of the pricing change" in the third quarter. The company expects to earn 72 cents to $1.07 a share next quarter. Analysts had been expecting earnings of $1.09 a share for the quarter.
Nearly 75% of Netflix's new customers during the quarter signed up for streaming-only plans. Netflix now has 25.6 million subscribers across the globe, up from 15 million customers a year ago. It has about 24.6 million in the U.S. alone.
But the company said that domestic subscriber growth in the third quarter will be relatively sluggish. Netflix expects to finish the quarter with between 24.6 million and 25.4 million U.S. subscribers -- close to flat from the current figure.
Netflix said DVD shipments have likely peaked already, but it's still setting up "a dedicated DVD division" with "no intention of selling it." The company will resume marketing its DVD-by-mail service in the fourth quarter, something it hasn't done in several quarters.
Content costs and new competitors: As streaming video gets more popular, Netflix is facing two headwinds: studios and potential rivals.
Netflix was able to score comparatively cheap streaming deals when the service first launched, but now content providers want to be paid more for the content they're providing. One analyst predicts Netflix's streaming content licensing costs will rise from $180 million in 2010 to a whopping $1.98 billion in 2012.
Google and Amazon have launched their own streaming video services, and Netflix's most direct competitor, Hulu, is on the selling block. Walt Disney Co. (DIS, Fortune 500) Chief Executive Robert Iger said at a conference earlier this month that Hulu's owners -- who include Disney -- are "committed to selling" it.
The list of interested potential Hulu buyers includes Google (GOOG, Fortune 500), Apple (AAPL, Fortune 500), Amazon (AMZN, Fortune 500) and Yahoo (YHOO, Fortune 500) plus telecoms AT&T (T, Fortune 500) and Verizon (VZ, Fortune 500). Landing Hulu would give any of them a strong foothold in challenging Netflix.
But Netflix said in a letter to shareholders Monday that it will not bid on Hulu. Netflix cited the fact that "most of [Hulu's] revenue is from providing free ad-supported streaming of current season TV shows, which is not our focus."