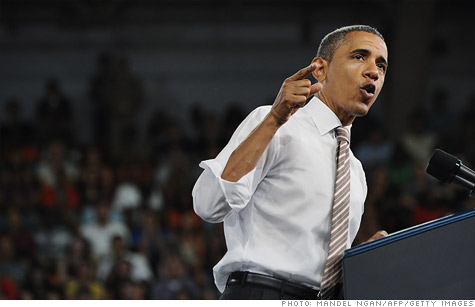 President Obama is expected to lay out his preferred options for debt reduction on Monday.
NEW YORK (CNNMoney) -- President Obama's debt reduction plan is set to land Monday in the laps of the 12 members of the Congress' bipartisan debt committee.
In recent weeks the president has said his plan would offer specific proposals that can achieve savings "more ambitious" than the committee's $1.5 trillion target. He said it would be "balanced," involving both spending cuts and tax increases. And he promised it would "stabilize debt in the long run."
But those phrases offer wide berth for interpretation.
"Ambitious is in the eye of the beholder," said longtime budget expert Stan Collender. "[Is it] ambitious because you use the word 'Medicare' twice in your proposal? Or is it ambitious because you call for savings over eight years instead of 10?"
What seems a sure bet, though, is that Obama's plan won't satisfy everyone.
Democrats will want him to go light on entitlements, especially since many felt the president caved too easily in failed debt negotiations with Republicans this summer. And they'll want to see tax increases on high-income earners.
The GOP wants to hold the line against any revenue increases and instead lean solely on spending cuts.
And serious fiscal experts, meanwhile, know that meaningfully and credibly reducing the debt will require crossing everyone's lines in the sand.
What "ambitious" may mean: Back in April, Obama released a debt reduction framework that would save $4 trillion over 12 years.
That's the minimum amount fiscal experts say is needed to stabilize debt as a percentage of the economy over a decade.
What most observers expect is that his plan on Monday will top the debt committee's $1.5 trillion, but by how much isn't clear.
"Three trillion would be tremendous," said Maya MacGuineas, president of the nonpartisan Committee for a Responsible Federal Budget.
But hitting that target almost certainly means tackling entitlements and tax reform. And in both cases expectations aren't high.
Obama promised in his jobs speech last week that his plan would include "modest adjustments to health care programs like Medicare and Medicaid." Some have taken that to mean that he may recommend savings in the program's administration and payment reimbursement rather than changes to benefits directly.
Recently the White House has made clear that the president's plan will not include Social Security.
"It is not a driver of our near-term deficit problems, and it can be pursued on a parallel track," White House spokesman Jay Carney said Thursday.
Many Democrats' blood pressure will hit the roof if Obama proposes raising the eligibility age for Medicare
Fiscal hawks, on the other hand, would applaud an increase in the retirement age for both Medicare and Social Security because if done gradually and in a way that protects workers in physically demanding jobs, it's a comparatively easy way to contribute to the programs' long-term solvency.
In terms of tax reform, early signs suggest he may tinker with the current code rather than offer specifics on how he'd like it overhauled.
On Sunday, for instance, a White House official said the president would propose what he'll call the "Buffett rule" -- a new top tax rate for millionaires to ensure they pay roughly the same average rate of federal taxes on their income as middle class families do.
Legendary investor Warren Buffett has urged Congress to tax the super-rich more, since many of them earn a bulk of their income from investments, which are taxed at a lower rate than wages.
But Obama could also outline what he could support for tax reform in the future. If he offers any specifics, said Sean West, a U.S. policy analyst at Eurasia Group, he might endorse a reduction in top marginal tax rates to roughly 28% for individuals and corporations in conjunction with the elimination of many deductions and credits.
Clint Stretch, managing principal of federal tax policy at Deloitte Tax, doesn't think the plan will offer anything but the broadest guidelines for tax reform. Instead he thinks the president will continue to recommend that many of the Bush-era tax cuts be allowed to expire for high-income households, which could raise about $700 billion or so over a decade.
"I'm not expecting a heavy lift," Stretch said.
How the debt committee may react: Expectations aren't high that the president's plan will alter the already difficult politics facing the super committee.
Indeed, Collender -- who is very pessimistic about the group's chances for success -- thinks the only way it may have an effect is if "he goes really big on Medicare, Medicaid and Social Security." Otherwise, he said, the members are likely to look at Obama's proposal and say, "Thanks very much, we'll get back to you."
But even if it doesn't alter the committee's deliberations, West thinks the president's plan will "take on an importance for laying the groundwork for the types of provisions a second-term Obama will seek in a deficit grand bargain in 2013."