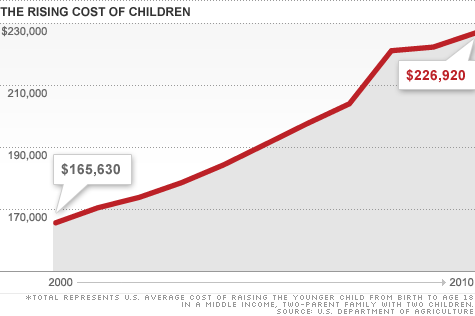 NEW YORK (CNNMoney) -- Forget designer strollers and organic baby formula, just providing a child with the basics has become more than most parents can afford.
The cost of raising a child from birth to age 18 for a middle-income, two-parent family averaged $226,920 last year (not including college), according to the U.S. Department of Agriculture. That's up nearly 40% -- or more than $60,000 -- from 10 years ago. Just one year of spending on a child can cost up to $13,830 in 2010, compared to $9,860 a decade ago.

"Everything is more expensive and each family makes its own set of trade-offs," said Ellen Galinsky, president of the Families and Work Institute in New York. "Many parents are working longer hours, or another job, and they are giving up time at home. It's a complete catch-22."
From buying groceries to paying for gas, every major expense associated with raising a child has climbed significantly over the past decade, said Mark Lino, a senior economist at the USDA.
Food prices, in particular, have weighed on parents' budgets as rising demand for commodities like corn and wheat, along with other factors such as rising oil prices, drought and floods, have made even a box of cereal a pricey proposition.
Another notable increase has been the cost of transportation, which soared as a result of rising gas prices. Between 2000 and 2010, consumers paid an average of 85% more per gallon at the pump, according to AAA.
The battered economy has also taken a toll, of course. Many employers scaled back or even did away with medical coverage in recent years, leaving many families to cover that bill, said Lino. At the same time, costs for doctors visits, medications and other health services also climbed. As a result, health care costs for families with children rose 58% over the decade, he said.
All of this comes at a time when incomes are shrinking and unemployment is near an all-time high. Over the past decade, median household income has fallen 7%, according to a recent report from the Census Bureau.
The child care crunch
The early years are among the toughest for parents who must find a way to afford all of those costs, plus child care.
"It takes half of my paycheck to pay for my child care -- you start to feel like, Is this even worth it?" said Anna Aasen, a mother of two from Roseburg, Ore.
Although housing generally represents a family's largest expense, putting more than one child in day care tips the scales.
In 2010, the cost of putting two children in child care exceeded the median annual rent payments in every single state, according to a recent report by the National Association of Child Care Resource & Referral Agencies, or NACCRRA.
"It defies logic," said Linda Smith, NACCRRA's executive director. As more families are priced out of licensed child care services, the health and safety of those children are put in jeopardy, she said.
For Stephanie Serafini, 38, licensed day care for her two children comprises about 30% of her $39,000 annual income. Serafini pays a particularly high rate for care because her oldest son was diagnosed with Asperger's and ADHD.
It is by far Serafini's largest monthly expense, but also the one with the least flexibility. "Other bills don't get paid," she admitted. "If you don't have day care you don't work."
For many parents, choosing to work and pay for child care is often a difficult trade off when they might otherwise stay home.
"The sad truth is, when you weigh the cost of child care and the cost of my wife driving back and forth to work it comes out to an extra $2 to $3 an hour," Ben Hammond, 31, said of his wife's decision to return to the workforce after their second son was born. "But we can't really live without that."
Saving strategies for parents
"[Parents] are overwhelmed," said Lule Demississie, managing director of retirement and investment products at TD Ameritrade.
The first step is to tackle the rising cost of raising a child is to start saving, she said. Stash some cash in a regular brokerage account, which will likely offer a higher return than traditional savings but can also be easily accessed to cover impending expenses, recommended Demississie.
"If you have expenses a year or two out, there are ways you can save that are more efficient than your savings account," she advised.
For longer-term needs, Demississie suggested finding tax deferred ways to save for the major bills, like employer-sponsored flexible spending accounts for health care and child care and Coverdells for education expenses or 529 plans for college, which allow you to save pre-tax dollars.
Ginger Ewing, a financial adviser with Ameriprise Financial, says new parents often ask her about saving for college but she urges them to think about more pressing needs like day care first. "If you have to choose," she said, "start there."
Ewing says it's those immediate needs that are often the most underestimated. She recommends holding at least $5,000 to $7,000 in a savings account or CD to cover the big expenditures that start even in the first year.
For those unable to set aside that kind of cash, Rita Cheng, another financial adviser, strongly advises couples to start slowly and do what they can.
"If all you can do is save $50 a month, that's fine. It's not the amount, it's the action that matters and sticking to it," she said.