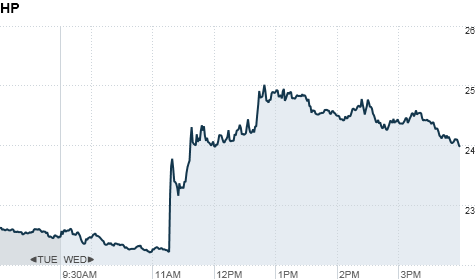 Click the chart for more on HP stock.
NEW YORK (CNNMoney) -- Shares of Hewlett-Packard soared almost 7% on reports that the board is considering firing CEO Léo Apotheker.
HP plans to offer the position to former eBay (EBAY, Fortune 500) head Meg Whitman, a source told Fortune Wednesday morning. Whitman, 55, has been an HP director since early this year. She served as eBay's president and CEO from 1998 to 2008.
HP's board is planning to meet this afternoon, the Fortune source said. A company spokeswoman declined to comment. Shares spiked about 10% soon after the announcement, and they closed 6.7% higher Wednesday.
The news of the possible ouster comes nine days shy of the one-year anniversary of Apotheker's appointment. That announcement ended two months of speculation about who would replace Mark Hurd, who abruptly resigned as HP's CEO after the company found that he submitted false expense reports to hide a personal relationship with a marketing contractor.
Apotheker, former CEO of business software firm SAP (SAP), was a surprise choice as an external candidate.
HP (HPQ, Fortune 500) had been widely expected to appoint an internal employee. Todd Bradley, executive vice president of HP's personal systems group, and Ann Livermore, leader of the company's enterprise business, were among the leading contenders.
Apotheker came with his own checkered past. He served for a short time as CEO and for many years in other top roles at SAP, which is struggling to hold its market share against onslaughts from Oracle (ORCL, Fortune 500) and IBM (IBM, Fortune 500). After more than two decades at SAP, Apotheker was ousted in 2009.
Generous compensation: When Apotheker signed with HP, he landed an annual salary of $1.2 million, plus a $4 million signing bonus and an additional $4.6 million for relocation assistance and to offset payments from SAP that Apotheker forfeited by taking the new job. He was also eligible for a cash bonus of $6 million for 2011.
Apotheker was also meant to collect a boatload of HP stock, but he needs to remain at HP for three years in order for all of it to vest. All totaled, Apotheker's hiring agreement with HP gave him the opportunity to collect cash and stock compensation over three years worth up to $53 million. Getting fired could deprive him of a big part of that windfall.
The day after HP announced Apotheker's hiring, company leaders held a press conference to discuss their choice. Bob Ryan, the lead independent director of HP's board, said they "cast the net very far and very wide both internally and externally." In the end, Ryan said, the board unanimously chose to offer the job to Apotheker.