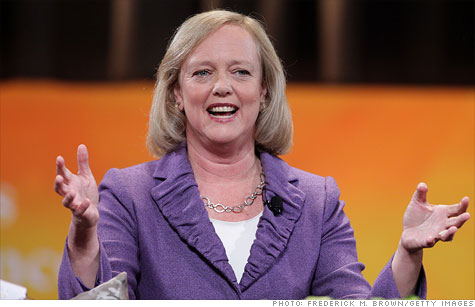 Meg Whitman, HP's new CEO, defended the tech giant's recent choices amid its leadership turmoil.
NEW YORK (CNNMoney) -- Hewlett-Packard's chairman of the board and new CEO aggressively defended the company's management late Thursday after coming under attack for making yet another controversial leadership decision.
On a conference call, analysts expressed their deep skepticism about the decision to replace Leo Apotheker as CEO with Meg Whitman. They also wondered aloud whether the board was able to act in the best interest of shareholders -- or even function at all.
Toni Sacconaghi, analyst at SanfordBernstein, said the move felt "more reactionary than proactive."
Ray Lane, HP's chairman of the board, stumbled a bit in his response, but said that the board considered many candidates -- internal and external, interim and permanent. He even considered filling the position himself on a temporary basis. Yet the board finally arrived at the decision that Whitman, a fellow board member, was clearly the best person for the job.
In fact, Whitman was so convincing as a candidate, that the board decided not to bother giving her the interim title.
"I can't think of a name out there I would select as CEO over Meg," he said.
After a number of high-profile embarrassments over the past six years, including a spying scandal, dissension over the ouster of former CEO Mark Hurd, and the curious hiring of Apotheker, the board has faced intense scrutiny of late.
Fending off criticism from analysts that the board is dysfunctional, Lane argued that the current board is very different than the ones of the past. It has eight new directors since the company ousted Hurd. He lashed out at the media for failing to note that fact, criticizing it for what he called "open season" on the directors.
"I tell you this right from my heart," he said. "That's not this board. They work really well together. Customers and shareholders are well-served by this board."
Lane claimed that Whitman's hiring was made after a careful, collaborative deliberation. He said it became "vividly" clear that the company was headed in the wrong direction after hearing analysts' negative feedback following the company's Aug. 18 announcement that HP would look to exit the personal computing business.
He said the board began to realize at the point that it had a leadership problem at the top. Lane claimed that Apotheker failed to get his executive team on the same page, failed to communicate the company's strategic shifts to customers, and -- most importantly -- failed to get HP (HPQ, Fortune 500) to execute operationally.
The company cut its financial outlook three times in Apotheker's tenure, and on Thursday, HP said it was not confident it would be able to meet its sales targets for the current quarter.
"You don't deliver one quarter, you don't deliver another quarter, you have to ask yourself, how long do you go along with that?" Lane asked.
At the same time, the chairman applauded Apotheker's vision, crediting him with making "important contributions, based on market trends," to the company's transition into higher-margin businesses like software and services.
For her part, Whitman told analysts that she supported the company's decision to transition its business, but she said she is not bound to anything except improving the company's execution.
"I know that HP has disappointed investors in recent quarters and we're not happy about it," she said. "HP will have no higher priority ... than to improve our operational and financial performance. We understand we're under intense scrutiny, and we will take the necessary actions to get HP back on track."
To do that, Whitman said the company would roll back share buybacks and capital expenditures to instead focus on rebuilding the company's sunken balance sheet. She also said that the board must make a decision soon -- by the end of this year or earlier -- on whether or not to get rid of its PC business.
She noted that a turnaround is "not going to happen overnight," but she said she believes the company can reestablish itself as a Silicon Valley leader.
Her plan can be summed up seven words: "Now it's time to get to work."