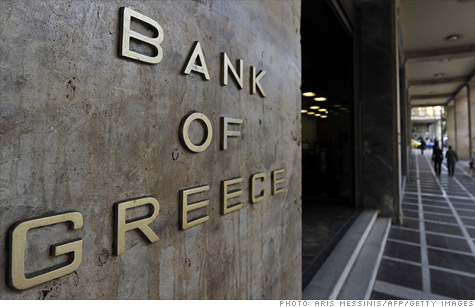 Headquarters of the National Bank of Greece in Athens.
NEW YORK (CNNMoney) -- As if the European markets needed more bad news, Moody's Investors Service downgraded eight Greek banks on Friday.
Moody's downgraded the long-term deposits and senior debt ratings of the banks by two notches. The rating agency said that the "liquidity and funding positions of Greek banks are increasingly fragile" and referred to the bank industry as a "deteriorating operating environment."
The rating agency has been on a roll. Just last week, Moody's downgraded two major Frank banks: Societe Generale and Credit Agricole. And on Sept. 21, Moody's downgraded three major banks in the U.S.: Bank of America (BAC, Fortune 500), Wells Fargo (WFC, Fortune 500) and Citigroup. (C, Fortune 500)
Greek banks are getting pinched by a weak bond market and the overall economic weakness in the debt-laden nation.
Greece has a 16% unemployment rate and Moody's said it expects the national economy will decline 7.3% in the second quarter.
Also, the rating agency said the Greek banking industry is suffering a decline of private sector bank deposits, by 10% in the first seven months of the year, and by 23% since December 2009.
Moody's downgraded the National Bank of Greece, EFG Eurobank Ergasias SA, Alpha Bank AE, Piraeus Bank SA, Agricultural Bank of Greece and Attica Bank SA, to a rating of Caa2 from B3.
The rating agency also downgraded Emporiki Bank of Greece and General Bank of Greece to B3 from B1.
All of these banks have a negative outlook for their long-term deposit and debt ratings.
The downgrade didn't come as a complete shock. Moody's had placed all of these banks on review for possible downgrade on July 25.