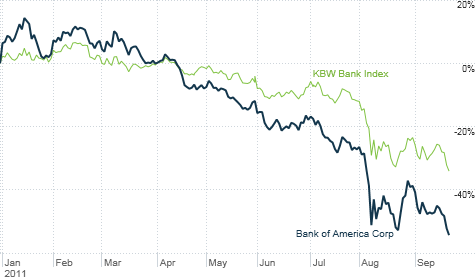 Big bank stocks have taken a beating this year. But none have gotten hit as hard as Bank of America.
NEW YORK (CNNMoney) -- Halloween is still more than a month away. But if you're looking for an idea for a costume that will really scare the daylights out of trick-or-treaters, just wear a T-shirt with BAC on it. Or C. Or WFC. Or GS.
Bank stocks haven been pummeled all year. The carnage continued Thursday as markets around the world plunged due to disappointment about the Fed's desolate outlook as well as weak manufacturing data from Europe and China.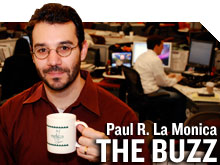 Shares of Bank of America (BAC, Fortune 500), which were down 4% in midday trading Thursday, have lost more than half their value this year. Citigroup (C, Fortune 500) stock plunged 5% and hit a new 52-week low. It's also down about 50% in 2011. Wells Fargo (WFC, Fortune 500) fell 2% and has lost a quarter of its value year-to-date.
Those three banks were all downgraded by credit rating agency Moody's Wednesday.
Interestingly, Moody's cited concerns about a decreased likelihood that the federal government would step in to bail them out if needed as the primary reason for the downgrade. But the rating agency noted that the credit quality at the three banks has actually improved.
Still, investors are nervous. And rightfully so. Even the banks that are supposedly "stronger" are getting beat up.
Shares of Wall Street powerhouse Goldman Sachs (GS, Fortune 500) are down more than 40% this year. Shares slipped 5% Thursday to a 52-week low. The so-called "vampire squid" is no longer trading above $100. Goldman's rival Morgan Stanley (MS, Fortune 500) plunged 7% Thursday and is down 50% in 2011.
And JPMorgan Chase (JPM, Fortune 500), widely acknowledged as the "best" of the big banks, fell more than 3% Thursday. It's down 30% this year.
Experts said that the worst may not be over. Part of it has to do with the fact that the banks are still struggling to cope with the bad mortgages they've been saddled with from the subprime credit crisis.
BofA, which faces numerous lawsuits from investors in securities tied to pools of toxic loans, is getting hit the hardest.
That's why BofA's stock, despite an investment from Warren Buffett's Berkshire Hathaway, is perilously close to dipping into the $5 range -- a psychologically problematic level for many fund managers.
But all the big banks have mortgage migraines to some extent.
"I would not be ready to jump into financial stocks," said Dan Seiver, a finance professor with San Diego State University. "If the U.S. economy remains weak, the banks will be hurt. There could be the constant drip drip drip of foreclosures and more mortgage losses."
The Europe mess just compounds matters. Investors are nervous about how badly big U.S. banks could get hit if Greece defaults. That may set off a calamitous chain of events that could threaten to topple major European banks.
"We have steered clear of the financials for awhile," said Rob Russell, president of Russell & Company, an investment management firm in Dayton, Ohio. "There is no real way to tell unequivocally what exposure U.S. banks have to European sovereign and bank debt. That's horrifying."
The Fed hasn't done banks any favors either. The central bank's new plan to sell short-term bonds and buy long-term securities, dubbed Operation Twist, could be a big problem for banks.
If long-term rates fall and short-term rates rise, you wind up with what's known as a flat yield curve. That makes it tough for banks to earn much from any new loans.
Ethan Anderson, chief investment strategist at Rehmann, a money manager in Grand Rapids, Mich, said a steeper yield curve would be "a license to print money." But now, the only hope for banks may lie with consumers looking to take advantage of falling mortgage rates to refinance.
In theory, a refi boom could be great news for banks. But that boom may not happen.
The problem that the Fed can't solve with lower rates is the dreaded "uncertainty" issue. Low rates don't matter if consumers are afraid the price of their house will drop and banks are afraid that those borrowers may become deadbeats.
"Eventually, bank stocks will be a good opportunity," Anderson said. "But you need actual demand for mortgages and other loans and banks being willing to make loans. We don't have that."
And that's terrible news for bank stocks, according to Daryl Jones, director of research at Hedgeye, an independent research firm New Haven, Conn.
Jones, who is also a contributor to Fortune, said Wall Street analysts have yet to factor this into their profit outlooks for the rest of the year and next.
"Banks borrow short and lend long. As the yield curve narrows, their earnings go away," he said. "Until consensus earnings estimates come down dramatically, bank stocks will continue to fall."
The opinions expressed in this commentary are solely those of Paul R. La Monica. Other than Time Warner, the parent of CNNMoney, and Abbott Laboratories, La Monica does not own positions in any individual stocks.