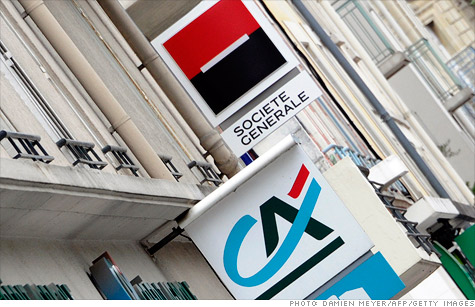 Moody's Investors Service downgraded two French banks, Societe Generale and Credit Agricole, for their exposure to Greece.
NEW YORK (CNNMoney) -- Underscoring the uncertainty about Europe's financial system, two major French banks -- Societe Generale and Credit Agricole -- were downgraded Wednesday due to their exposure to the debt of Greece and other weak eurozone nations.
The move by Moody's Investors Service wasn't a complete shock to the markets, since the ratings firm had placed SocGen, Credit Agricole and BNP Paribas on review on June 15. BNP remains under review.
European markets, beaten down in recent months by concern about the impact of the debt crisis in Greece and several other nations, rebounded on the news. London's FTSE 100 (UKX), the DAX (DAX) in Frankfurt and the CAC 40 (CAC40) in Paris all rose by at least 1%.
Moody's downgraded Societe Generale's long-term ratings by one notch to Aa3, with a negative outlook. The rating agency said that its downgrade reflects "the potentially persistent fragility in the bank financing markets."
The rating agency said that SocGen could "absorb potential losses it is likely to incur over time on its Greek government bonds," even if the bond creditworthiness of two other nations, Ireland and Portugal, were to "deteriorate further."
But Moody's said its downgrade was based on concerns about the banks' liquidity, particularly considering the difficulty they'll have getting financing in the current environment.
Moody's made a similar statement in its downgrade of Credit Agricole, noting that the bank "has considerable capital resources to absorb potential losses" from its exposure to Greek bonds, but "the exposures themselves are too large to be consistent with existing ratings."
The agency downgraded Credit Agricole's long-term debt and deposit ratings to by one notch Aa2. The agency also downgraded the bank's financial strength rating by one notch to C.
Credit Agricole's stock slipped less than 1% Wednesday,after having lost nearly half its value so far this year.
SocGen's stock fell more than 4%. The bank's stock has fallen 57% year-to-date.
Europe has been dealing for more than a year with the financial instability of Greece and the other so-called PIIGS nations -- Portugal, Ireland, Italy and Spain. The five nations are all coping with severe debt, leading to unpopular attempts to impose austerity measures and efforts by more stable neighbors to work out bailout plans.
Moody's downgraded Greece again on July 25, to one class above default, following a new bailout package from its European neighbors.