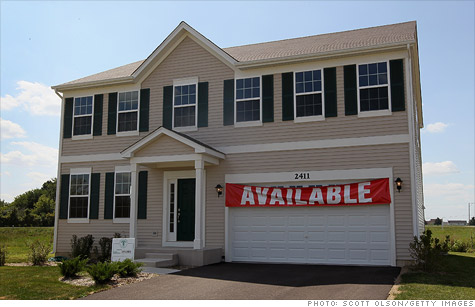 Despite rock-bottom low interest rates and soft home prices, buyers are staying at bay: new home sales fall for the fourth straight month in August.
NEW YORK (CNNMoney) -- New-home sales fell once again in August, the fourth straight month of declining sales for the beleaguered home building market.
New homes sold at a seasonally adjusted annualized rate of 295,000 last month, a 2.3% drop from a revised rate of 302,000 homes sold in July, the Census Bureau said Monday.
That was better than the rate of 293,000 that economists were expecting, according to a consensus estimate from Briefing.com.
Even as sales were weak in August, they were still 6.1% above the same time last year, when new-home sales were at an annual rate of 278,000.
"The trend in recent months has been dead flat, with sales hovering around the 300,000 mark, down more than 80% from the boom-time peak," said Ian Shepherdson, chief economist at High Frequency Economics, in a research note.
Shepherdson was actually "moderately relieved at this number," given that Hurricane Irene hit during the month, and consumers watched rating agency Standard & Poor's downgrade the credit rating of the United States following a Congressional stalemate over the debt ceiling.
"Still, the market is dead, and even record low mortgage rates are not doing anything to help," said Shepherdson.
Interest rates are at rock-bottom lows. Mortgage rates are tied to the yields of Treasury notes, and investors anxious about the European debt crisis have been pouring into the safe haven of government debt.
Also, in the wake of the housing bust, home prices continue to remain soft.
The median sale price of new homes sold last month was $209,100, down 8.7% from the previous month when the median price was $228,900. And the average sale price was $246,000, down 8.7% from July's average of $269,500.
For prospective buyers, there were 162,000 homes available at the end of August, the government reported. At current sluggish sales rates, that represented a 6.6 month supply.
Builders are building fewer homes these days in the face of tepid sales. "Builders have responded by cutting new construction to a record low, so the months' supply number is a healthy-looking 6.6," said Shepherdson.