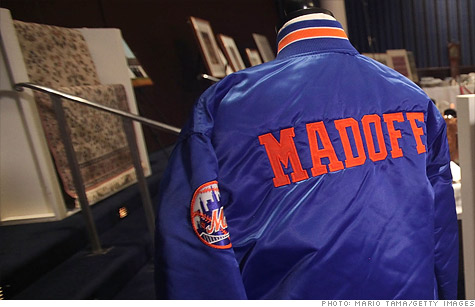 A federal judge threw out 9 of 11 counts in a lawsuit filed against the New York Mets.
NEW YORK (CNNMoney) -- A federal judge dismissed most counts of a $1 billion suit against the owners of the New York Mets baseball team Tuesday that stemmed from the club's involvement in Bernie Madoff's Ponzi scheme.
The lawsuit, filed by a court appointed trustee, is not only seeking $300 million in profits the Mets gained from their investments with Madoff, but also goes after the $700 million in principal that the owners deposited and then withdrew from Madoff's firm.
Judge Jed Rakoff dismissed 9 of 11 charges in the case, which is being heard in U.S. District Court in New York.
Irving Picard, the trustee in the case, had alleged that the Mets' owners were willfully blind to the fraud, seeing statement after statement of excellent returns from Madoff and tapping their account when they wanted funds.
The Mets owners had sought to have the lawsuit dismissed as "illegitimate."
Like many of the other investors who have been sued by Picard, they claim they did not know what Madoff was up to and they would not have knowingly participating in a Ponzi scheme.
While most counts were dismissed, the Mets could still be on the hook for massive damages.
Under one count that was not thrown out, the trustee can recover the Mets' profits by "simply proving that the defendant did not provide value for the monies received."
But the $700 million in principal can only be recovered with a higher burden of proof: the trustee must prove that the Mets "willfully blinded themselves to Madoff Securities' fraud."
Representatives from the Mets said in a statement that Sterling Partners, the business entity of the team's owners, were "pleased that the court today dismissed nine of the 11 counts" and that "the lone remaining count in which the Trustee seeks to recover payments from the Sterling Partners is limited to a two-year period."
A spokeswoman for the trustee said it had no comment "prior to a thorough evaluation of the ruling."
Madoff, meanwhile, is languishing in a federal prison in North Carolina, where he is serving a 150-year sentence.
Madoff pleaded guilty in 2009 to 11 counts related to running the largest Ponzi scheme in history. Thousands of investors were duped out of at least $20 billion, which Madoff used to fund an extravagant lifestyle for him and his wife Ruth.
Madoff's possessions have been auctioned off to compensate his victims, including his customized satin Mets jacket, which fetched nearly $15,000.