Lawyers make millions off Madoff mess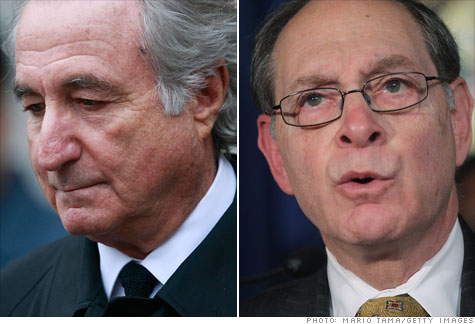 NEW YORK (CNNMoney) -- Bernard Madoff's Ponzi scheme left thousands of victims in its wake -- and lawyers and consultants are reaping millions in payments from the financial devastation.
"The only winners in the Madoff scandal are the lawyers," said Ronald Colombo, associate law professor at Hofstra University in Hempstead, N.Y. "But that's the nature of the beast."
The Securities Investor Protection Corp. (SIPC), an industry-sponsored organization that provides financial protection to investors, has paid more than $290 million to law firms and consultants since Madoff's scheme fell apart in 2008. The lawyers and consultants are tasked with tracking down and recovering Madoff's stolen assets so they can be distributed back to the victims of his scam.
This includes fees of nearly $128 million for Baker & Hostetler, the law firm that is spearheading the recovery of stolen property. The firm's Irving Picard, who was appointed to serve as trustee by the federal bankruptcy court overseeing the case, is being paid an additional $3.2 million.
SIPC said it has paid another $10 million to additional law firms "around the world."
In addition, the organization has paid nearly $150 million to consultants, including $84 million to FTI Consulting, $48 million to AlixPartners, $2.5 million to Renaissance Associates and about $10 million to others.
The $290 million in legal and consultant fees is in addition to the $790 million that SIPC is paying to victims of Madoff's fraud. The organization covers up to $500,000 in losses for individual investors with legitimate claims.
So far, the trustee has determined 2,402 Madoff investors to be eligible for SIPC coverage. These investors have received payments of up to $500,000, or are in the process of receiving those payments.
These fees do not come from the $10 billion in assets already recovered from the $20 billion estimated lost in Madoff's scheme. Instead, the money comes from Wall Street brokerage firms, which SIPC's president says are required to pay 0.25% of their net revenue into a insurance fund.
"In the Madoff case, SIPC has shouldered all the administrative expenses," said Stephen Harbeck, president and CEO of SIPC. "Any money that Picard and his firm has recovered goes 100% into the customer property pool. Customer property is never used to pay legal fees."
But, according to Hofstra's Colombo, these "eye-popping" legal fees are a bargain rate for services rendered, considering the success rate of the recovery process. "[SIPC] is paying more than ever before by enormous amounts, but they're recovering more than ever by enormous amounts," he said.
Investors thought that Madoff was investing their money in the markets, but in reality he was orchestrating one of the most elaborate pyramid-style scams in history. He pleaded guilty in federal court in 2009 and is serving a 150-year prison sentence.
Madoff, for his part, said in his first comments to journalists since being imprisoned that he's cooperating with Picard in helping ex-clients get their assets back.
"I would have loved for them to not lose anything, but that was a risk they were well aware of by investing in the market," Madoff wrote in an e-mail to The New York Times that was quoted as part of an interview published Wednesday.
In December, Picard and Preet Bharara, U.S. Attorney for the Southern District of New York, cleared a major hurdle in dealing with Madoff's mess. They announced a $7.2 billion settlement with Barbara Picower, the widow of Jeffry Picower, considered the biggest beneficiary of Madoff's scheme.
According to the trustee, Picower had withdrawn $7.8 billion from Madoff's firm since the 1970s, even though he only deposited $619 million. His widow agreed to hand over the difference, $7.2 billion, to benefit Madoff's victims, many of whom were left destitute in the wake of his fraud.
Of the 16,266 Madoff investors who filed claims with the trustee, only 2,402 are considered legitimate. The majority of rejected claims are from "third parties" who invested through feeder funds. In cases like that, only the direct investors -- the feeder funds themselves -- are protected by SIPC.
There are also hundreds of investors who were rejected on the basis that they, like Picower, withdrew more from Madoff's firm than they deposited. Even though many of these investors claim to have known nothing of the Ponzi scheme, the trustee is suing them for benefiting from it.
This group includes the owners of the New York Mets baseball team and JPMorgan Chase.
Madoff told the Times that Mets co-owners Fred Wilpon and Saul Katz did not know about his scheme, and that lawsuits against banks such as JPMorgan Chase (JPM, Fortune 500) should recover enough money without having to sue private investors.
The trustee's drive to sue investors who took profits from Madoff's scheme is one of Picard's more controversial moves. Many of these investors claim to be innocent, with little or no money, since they were living off their withdrawals instead of socking them away.
Ron Stein, a certified financial planner with the Network for Investor Action and Protection, said these "clawback" lawsuits wouldn't be necessary if SIPC had raised its rates and extracted more money from the brokerage firms.
"The enormous amount of money being used to go after small investors is not money well spent," he said. "In fact, it's doing more damage. It's basically telling investors that their money is not protected."
In his interview with the Times, Madoff said Picard is overextending his reach with the clawback lawsuits. He said in e-mails to the paper that the trustee's only concern should be to return the $20 billion in out-of-pocket cash that investors lost in the scheme.