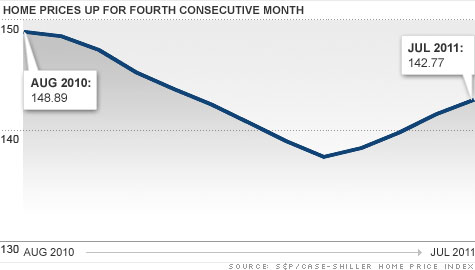 NEW YORK (CNNMoney) -- Home prices in July climbed for the fourth month in a row, but are still down from a year ago.
According to the latest S&P/Case-Shiller home price index of 120 major cities, prices rose 0.9% in July compared with June, but they're still 4.1% lower than 12 months ago.
"We are far from a sustained recovery" said S&P spokesman David Blitzer. "Continued increases in home prices through the end of the year . . . must materialize before we can confirm a housing market recovery,"
Adjusted for seasonal differences, the 20-city index was flat month-over-month.
But a handful of cities have shown surprising strength recently. In Detroit for example, prices jumped 3.8% month-over-month, after spiking 5.8% in June. Minneapolis prices increased 2.6% and Washington recorded a 2.4% rise.
Weakness continued in Las Vegas, which was down 0.2% month-over-month and in Phoenix, which edged 0.1% lower.
Blitzer cited some positive signs for the struggling housing market. Existing home sales were up 20% in August compared with 12 months earlier. Foreclosures have dropped most of the year.
On the negative side, however, housing starts are near historic lows and consumer confidence remains depressed.
"These combined statistics indicate the market is still bottoming and has not turned around," he said.
Stan Humphries, chief economist for the real estate website Zillow, is not optimistic about the outlook for housing.
"I still believe that the continued fears about a Greek default, weak employment growth and low consumer confidence will ultimately translate into weaker housing performance in the back half of this year," he said. "Looking ahead, expect fading monthly momentum in Case-Shiller."
Complicating things is that a quarter of homeowners are underwater on their mortgages, owing more than their homes are worth, making it difficult to refinance into low interest mortgages.
Underwater borrowers are also more likely to go into foreclosure since there's no home equity to tap should they run into a rough financial patch.
Even though most analysts can't work up much enthusiasm for the upward price trend, it's still welcome news, according to Anthony Sanders, a professor of real estate at George Mason University.
"Four months of price increases is a pretty good sign that the market has stabilized," he said.
A more stable market could mean that lenders will loosen up purse strings a bit, making it easier for potential homebuyers to get mortgages, which could pump up demand for homes.
That could happen, according to Sanders, but he expects some bad price trend news this fall as a weaker selling season begins.