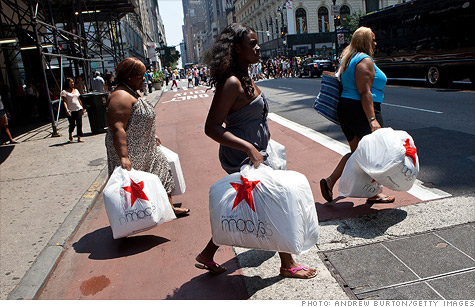 Consumer spending was flat in August compared to the month prior.
NEW YORK (CNNMoney) -- Consumers kept a firm grip on their wallets in August, threatening to stall further the already slowing economic recovery.
Retail sales were unchanged in August, less than the 0.2% increase that economists were expecting, according to consensus estimates from Briefing.com.
Also, the boost in retail sales reported in July was revised to be slightly less than originally reported. Retail sales in July were cut to up 0.3% from the 0.5% gain initially posted.
"After relatively strong sales in the prior two months, August sales were flat -- a disappointing result even compared to already subdued expectations," said Jim Baird, partner and chief investment strategist for Plante Moran Financial Advisors, in a research note.
And the weakness is here to stay. When consumers don't have jobs, they don't spend money. "Recent softness in the employment market is impacting consumer confidence and increasingly contributing to a reining in of spending habits," said Baird.
Compared to the same time a year ago, retail sales are still 7.2% above the same time last year. That is important because consumer spending is especially critical for the economy and its recovery, accounting for two-thirds of all economic activity.
Sales excluding the volatile autos and auto parts sector were up 0.1% in August compared to the previous month, less than the 0.3% bump economists were expecting.
If consumers keep their wallets shut, as they did in August, the economy is going to struggle to climb out of its current sluggish pace.
"The slowdown in the economy in recent quarters is increasingly apparent, and risk is increasing that the growth could be further curtailed if consumers continue to save more and spend less," said Baird.
As shoppers hit the stores for back-to-school shopping in August, sales in sporting goods, hobby, book and music stores increased slightly compared to July, as did shopping in electronic and appliance stores, and in grocery stores.
Meanwhile, shoppers pulled back on sales in clothing and clothing accessory stores in August, compared to the previous month.
"With zero jobs created in August and job growth over a multi-month period at a snail's pace, there is an increasing sense that the economy has slowed to the point that it would take little to tip into contraction," said Baird.