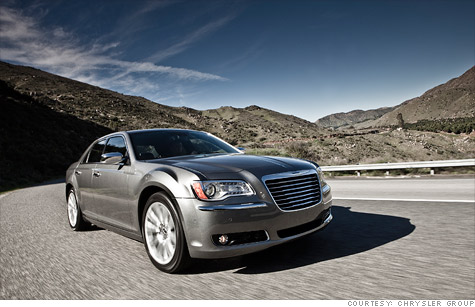 Chrysler Group had the biggest sales gain of the Detroit automakers and one that was not due incentive spending or fleet sales, analysts said.
NEW YORK (CNNMoney) -- Major U.S. automakers posted sales increases in September, in some cases even better than analysts had predicted. Some of the biggest gains came from SUVs and compact cars as buyers who had been putting off purchasing a new vehicle finally re-entered the market.
Top Japanese automakers Toyota and Honda, however, sold fewer cars this September than last as their factories continued to recover from February's earthquake and tsunami. But Nissan produced a 25% sales gain.
The industry as a whole sold over a million new cars and light trucks in September, a 10% gain from September of last year, according to industry analysts at Autodata.com.
"The larger story was how well the market did compared to what the indicators were," said Jesse Toprak, an industry analyst with the auto pricing Web site Truecar.com.
Even as the economic news was largely dreary, people were still buying cars.
Two of the biggest reasons were that manufacturers had recently launched a lot of all-new and redesigned models and that a lot of people simply couldn't put off buying any longer, Toprak said.
General Motors reported a 19% increase in sales compared to September, 2010. Among the biggest sellers for GM were compact SUVs like the GMC Terrain and small cars like the Chevrolet Cruze. GM sold about 18,000 Cruzes last month compared to 3,500 Cobalts last year when the Cobalt was ending its production run.
Sales of GM's Chevrolet Silverado and GMC Sierra full-size pickups increased more than 25% compared to last year, while sales of the automaker's big Chevrolet Tahoe, Suburban and GMC Yukon SUVs, while much smaller in absolute numbers, increased by 63% to 83% depending on the model.
GM (GM, Fortune 500) attributed the increases in big truck sales to a combination of pent-up demand resulting from buyers delaying purchases and relatively low gas prices.
Edmunds.com analyst Michelle Krebs pointed to higher incentive spending by GM as another big factor.
"GM may be the most motivated of all truck and SUV sellers, as the company's 2011 pickup and SUV inventory has been high and the new models arrive in 2012, so GM wants to clear out the old as quickly as possible."
Ford (F, Fortune 500) posted a smaller 9% sales gain and also attributed much of its increase to stronger SUV sales. Ford sold 35% more SUVs this September than last with the popularity of more fuel-efficient models like the new Ford Explorer accounting for much of the gain.
Sales of the small Escape crossover were up 41%, Ford said, a figure that analysts at Edmunds.com attributed, again, to heavy incentive spending.
Sales of the Explorer, now a car-based crossover SUV, more than doubled last September's number when Ford was still selling a less fuel-efficient truck-based Explorer SUV.
Chrysler Group had the biggest sales jump of the Detroit automakers, posting a 27% increase on the strength of some recently refurbished or redesigned models and, again, strong truck and SUV sales.
Retail sales (those not made to corporate and government fleets) were up by a full 50%, Chrysler boasted. In this case, Chrysler Group did not lean on incentives to push the increases, analysts at Edmunds.com said.
"In the recent past, Chrysler relied heavily -- too heavily -- on fleet sales to boost overall sales, but that trend seems to be changing now, and that's a sign of increasing strength for the company," Edmunds.com's Krebs said.
Sales for Chrysler Ram truck brand were up about 45%, the automaker said, while the Jeep brand had its strongest sales month since 2007.
Sales of the "facelifted" Jeep Compass compact SUV -- the vehicle's body got major alterations while mechanical changes were minor -- more than tripled compared to last year. Sales of the Jeep Wrangler off-roader were also up by nearly half.
At Chrysler Group's core Chrysler brand, the 200 sedan almost doubled sales compared to the Chrysler Sebring it replaced, while sales of the entirely redesigned Chrysler 300 rose 50% compared to last year.
Toyota Motor Sales U.S.A. reported sales that were, overall, 17.5% lower than the same month last year. Toyota's production returned to normal levels during the month, the automaker said, but not in time to bring sales back to normal.
"Our plants are now working overtime and dealer deliveries will continue to increase through the remainder of 2011," said Bob Carter, who heads Toyota's core Toyota car brand in the U.S. "It's a tribute to the efficiency of our distribution system and our dealers that we were able to sell more than 121,000 vehicles in September despite 40% less availability than last year."
Sales for Honda fell 8% compared to last September with the biggest bright spots being sales for the Pilot and CR-V SUVs.
"Pilot drove Honda's incentives boost this month which made it quite competitive in its segment and perhaps swayed some car buyers into a larger vehicle," said Edmunds.com analyst Jessica Caldwell. "It still appears as if Honda is slow in rebuilding its small car inventory, particularly Civic, Insight, and Fit."
"I don't think we can call inventories levels normal for Honda and Toyota until the first quarter or 2012," Toprak said. Until then, Honda and Toyota will be replenishing drastically depleted inventories, he added.
Sales of all three of those small cars were down compared to last year, with sales of the Insight, a hybrid model, down almost 70%.
Nissan broke from the other major Japanese automakers, posting a sales increase of better than 25% compared to last September. Nissan's gains were weighted more heavily toward cars, with the newly redesigned Versa subcompact selling almost 70% better than last year.