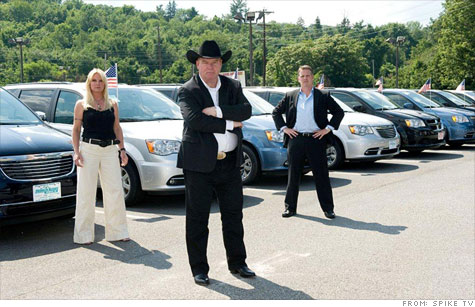 Auto sales consultant Tom Stuker (center) will work to turn around failing auto dealerships in five days with the help of his sister Roxy and consultant Roe Hubbard.
NEW YORK (CNNMoney) -- It's been a rough few years for auto dealers. Hundreds have had to close over the last couple of years and the those that survive face a still-tough economy and even tougher customers.
But a new reality TV series aims to help a few struggling dealerships turn their businesses around.
Spike TV's new series, with the working title Car Lot Cowboy, will feature auto sales consultant Tom Stuker as he works to turn failing dealerships into profitable businesses in just five days.
Stuker's expertise is primarily in sales but since there's a lot more to running a profitable dealership than just selling cars -- like parts and service, for instance -- he will bring along a team of experts in various aspects of the business.
Outside the auto industry, Stuker is most famous as the first man to earn 10 million United Airlines frequent flyer miles. He has worked with over 1,500 auto dealerships, the network said.
"His blunt talk may rub some of the salespeople the wrong way, but his tough-love approach and keen sense of the business ultimately delivers unmatchable success," the network said in its announcement.
Auto dealers have been hit by slowing sales, tight credit and the forced closures of many dealers during the General Motors and Chrysler restructuring.
Dealers also have to contend with today's Internet-savvy bottom-line oriented car shoppers who can haggle on-line more effectively than ever.
There are some fairly common mistakes car dealers make, said Roxy Stuker who helps implement her brother's ideas on the show. (Tom Stuker himself was, unsurprisingly, on an airplane and unable to comment for this story.)
Car dealers will often not trust salespeople to close deals with customers, she said, but will instruct them to get a sales manager to close the deal. That annoys customers, she said, and undermines their confidence in the salesperson.
"Plus, you have the managers and all they're doing is closing deals," she said. "They're not managing."
The dealership, meanwhile, descends into chaos as salespeople aren't trained and customers feel hammered.
Two episodes of the show have already been filmed, the last one in New Jersey, Spike TV spokesman David Schwarz said.
Spike TV is part of Viacom (VIAB, Fortune 500)'s MTV Networks.