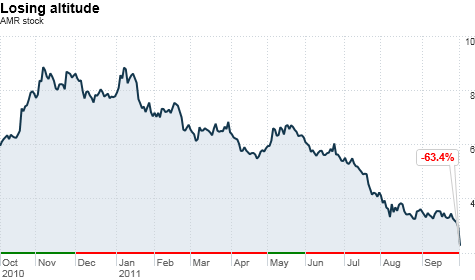 NEW YORK (CNNMoney) -- Shares of American Airlines parent AMR lost a big chunk of their value Monday after numerous reports that the company was facing a threat of bankruptcy.
Shares of AMR (AMR, Fortune 500) plunged 96 cents, or 32%, to $2 in afternoon trading. Shares have not closed below the $2 mark since March 2003. Still the stock was up from the low of the day of $1.75 a share.
There were multiple pauses in trading of AMR shares during the day Monday was due to automatic triggers established by the New York Stock Exchange.
One of the few major U.S. airlines that did not go through bankruptcy in the last decade, AMR is forecast to report its fourth straight year of losses in 2011, and analysts expect it to lose money again in 2012.
"Regarding rumors and speculation about a court-supervised restructuring, that is certainly not our goal or our preference," said company spokesman Andy Backover. "We know we need to improve our results, and we are keenly focused as we work to achieve that."
Backover said while the company does not normally comment on changes in share price, "there is no company-driven news that has caused the volatility in AMR shares today."
Reports in various wire services and websites cited fears that AMR could be forced into bankruptcy, especially if the U.S. economy falls into a recession, as a growing number of economists now fear.
Ray Neidl, airline analyst with Maxim Group, said he thinks the bankruptcy fears are overblown, fed by reports of widespread retirements by American pilots who wanted to lock in a higher value for their AMR stock before the decline.
"American has a lot of problems they have to address, but they're in no immediate danger of bankruptcy," he said. "I think they could probably muddle through a recession. If it's a severe, long recession, they're the weakest link. But they should have the cash flow and liquidity to survive."
AMR said last month that it expects to have an unrestricted cash balance of approximately $4.2 billion at the end of the third quarter, which concluded on Friday. Last week, it launched a $726 million debt offering backed by leases on its jets, which is designed to offset a significant portion of the $1.3 billion in debt it has coming due the remainder of this year.
Neidl said a pre-packaged bankruptcy might be the best thing for the airline's finances, even if it wiped out shareholders, because it could give them leverage in the labor negotiations with unions. "But I don't think management there wants to touch that," he said.
Other major airline stocks, including United Continental (UAL, Fortune 500), Delta (DAL, Fortune 500), US Airways (LCC, Fortune 500) and Southwest Airlines (LUV, Fortune 500) were all also sharply lower in midday trading, but their losses weren't nearly as steep as AMR's. United shares fell 10.7%, US Airways fell 13.5%, Delta 9.8% and Southwest 6.5%.
Aircraft maker Boeing (BA, Fortune 500), a Dow component which earlier this summer had a major order for 200 planes from AMR, was also off 4%.