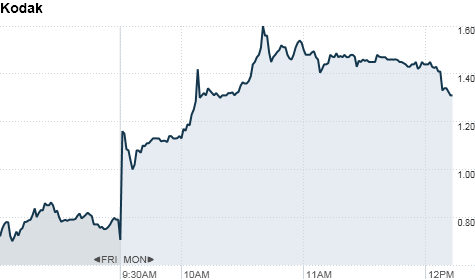 Click the chart for more on Kodak stock.
NEW YORK (CNNMoney) -- Shares of Eastman Kodak rose 72% Monday, recovering all of the losses sustained on Friday, after the camera maker denied that is planning to file for bankruptcy.
The Wall Street Journal said Friday that Kodak had hired law firm Jones Day to explore a restructuring. Bloomberg said the company hasn't officially hired a firm yet, but that bankruptcy is among the options being considered.
The rumors came just days after Kodak was forced to draw from its credit line, had its credit rating downgraded by two major agencies, and received harsh words from a stockholder.
Kodak (EK, Fortune 500) shares plunged 54% Friday on the news to a mere 78 cents. But after the close of trade on Friday, Kodak released a statement denying the rumors and saying the company "has no intention of filing for bankruptcy."
Investors cheered the move when they had a chance to start trading on Monday. Shares more than doubled in morning trading before easing back to close 72% higher at $1.34.
Kodak did confirm on Friday that it hired Jones Day: "It is not unusual for a company in transformation to explore all options ... including financial and legal advisers. Jones Day is one of a number of advisers that Kodak is working with in that regard."
The year hasn't been kind to Kodak, which has suffered massively from photography's transition from film to digital, and this week was especially tough. Late last week, Kodak disclosed that it needed to tap $160 million from a pre-existing $400 million credit line.
On Tuesday, rating agency Moody's downgraded several Kodak debt securities. That pushed Kodak even deeper into "junk" status. Fitch followed up with its own downgrade on Wednesday.
Thursday's helping of bad news came in the form of a scathing letter from Investment Partners Asset Management, a Metuchen, N.J.-based firm that owns Kodak stock and convertible bonds. IPAM owned about 50,000 common shares of Kodak as of mid-year, according to FactSet Research.
IPAM said in its letter to Kodak's board that the company's "long-term performance is simply unacceptable, and as such it has not earned the right to remain an independent company." It urged Kodak to find a buyer that "has resources to commercialize the company's intellectual property more efficiently."
Kodak has been increasingly relying on licensing for revenue. In July, The company also announced it's exploring the sale of more than 1,100 patents tied to digital imaging. Analysts say that deal could generate as much as $3 billion.
Kodak confirmed in its statement Friday that it continues to pursue paths toward monetizing those patents.