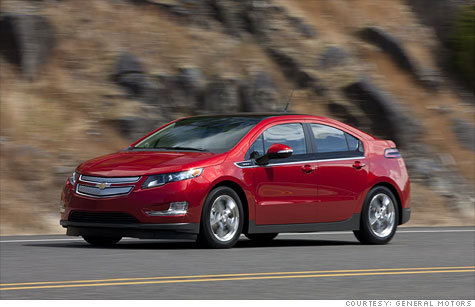 Consumer Reports lauds the Chevy Volt for its fuel economy and acceleration but issues like poor visibility and seating for only four detract.
NEW YORK (CNNMoney) -- The Chevrolet Volt, General Motors' plug-in car, has earned a recommendation from Consumer Reports magazine.
The Volt, which GM calls a "range-extended electric vehicle," has already earned several awards including Motor Trend Car of the Year and North American Car of the Year, but Consumer Reports' recommendation could have more impact on sales than any of those.
Generally regarded as the single most influential publication among car buyers, Consumer Reports anonymously purchases all the cars it tests from dealers rather than using cars provided by manufacturers. The magazine also accepts no advertising to prevent real or apparent conflicts of interest.
The magazine tests cars at its Connecticut track as well as on real roads. To earn the sought-after "Recommended" check mark, a car must perform well in a host of tests and must be deemed to have at least average "predicted reliability."
"Predicted reliability" is based on surveys taken by the magazine's 1.3 million magazine and Web site subscribers. So far, surveys have been collected from 116 Volt owners, very few of whom had any problems, the magazine said.
The magazine requires data from at least 100 owners of a given vehicle before it will make a judgment about reliability.
Consumer Reports hailed the Volt for its fuel economy, quietness, "instant acceleration" and excellent crash-test results. But earning a recommendation doesn't mean the Volt is perfect. The magazine noted poor visibility, tricky braking, narrow driving position and the toll cold weather takes on its electric driving range. Also the Volt seats only four, which is one less than most cars its size.
Consumer Reports test drivers were generally able to get about 35 miles in electric vehicle mode before the car's 1.4-liter gasoline engine had to begin generating electricity on-board. That's the same EV range as the car's official EPA estimates. Using the heater greatly reduced the car's range, though, the magazine said.
The Nissan Leaf, which a purely electric car, earned a higher score in Consumer Reports' tests -- 78 on a 100-point scale versus the Volts 67 -- but has not earned a recommendation because not enough data has been collected from owners yet.
The Leaf would have scored even higher but was penalized for its limited driving range, said Gabriel Shenhar, senior auto test engineer at Consumer Reports. The Leaf can go only about 75 miles on a charge. It has better visibility than the Volt, though, plus it seats five and has roomier back seats, he said.
It will be at least a year before the Leaf gets another chance to be recommended, Shenhar said. Data from reliability surveys is released every fall.
So far, GM has sold just over 4,000 Volts and still hopes to sell 10,000 by the end of the year. Until recently, the Volt was only available in a few states, but GM is now ramping up production and making the car available in all 50 states.