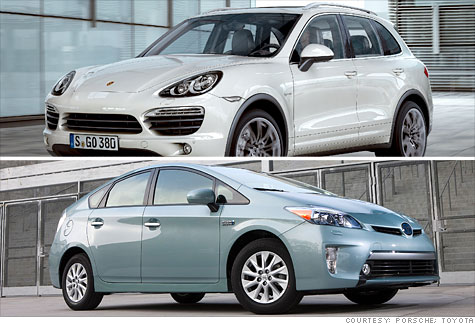 The Porsche Cayenne S Hybrid (top) and the Prius Plug-in
FORTUNE -- As the annual observance of Columbus Day arrives on October 10, it should serve as a reminder that those who stand in the way of overwhelming scientific evidence often have to eat their words.
Whether it is members of the Flat Earth Society or those who deny the science of climate change, there is never any shortage of Luddites who say "no" to progress -- just before they are proved resoundingly wrong
Those thoughts occurred to me recently when I had the opportunity to log a couple of hundred miles behind the wheel of a pair of new cars at opposite ends of the price and performance spectrum -- both of them hybrids: a Porsche and a Prius.
There's been lots of handwringing lately about the future of hybrid cars. "Too expensive" the critics say. "Since buyers believe they will never recoup their additional upfront cost with savings from improved mileage, hybrids will remain a specialized niche."
They remind me of the same people a few years ago who didn't see any future for navigation systems because "$2,000 is too much to pay for an electronic map." Today, very competent aftermarket systems are available for a tenth of that price, and nav systems have become as essential as power steering and anti-lock brakes.
Those who would deny the efficacy of hybrids because of short-term sales blips overlook some obvious longer-term trends:
• To date, only one manufacturer, Toyota (TM) has made a significant commitment to hybrids by creating a separate body style and a separate brand. Not coincidentally, Toyota's Prius accounts for almost half of all hybrid sales.
• Automakers who had invested heavily in other technologies like diesel are getting on the hybrid bandwagon. When German luxury carmakers like Mercedes-Benz, Audi, and Porsche follow the lead of Toyota, you know they are doing it out of necessity, not collegiality.
• Most manufacturers have no other choice than to build more hybrids. They can't meet stiffening federal mileage standards with conventional technology alone.
• The price of gasoline is going nowhere but up. We may or may not be approaching peak oil, but the economics of limited resources are inescapable.
All those thoughts ran through my mind when I saw two vehicles parked side-by-side in my driveway: the Porsche Cayenne S hybrid and the Prius Plug-in.
The Cayenne is nobody's idea of transportation that is either environmentally sensitive or economically sensible. My dark blue metallic tester weighed close to two-and-a-half tons, rocketed to 60 miles per hour in 6.1 seconds, and stickered at $86,510. That's not going to win many points from the Sierra Club.
Porsche isn't exactly flaunting its eco-responsibility either. Except for a discrete script "hybrid" on the front fender, the Cayenne is identical in appearance to its gas-powered stablemates.
But that shouldn't detract from the considerable technological achievement it represents, either. The Cayenne S hybrid SUV weighs nearly 400 pounds more than the standard S, yet it gets 25% better gas mileage around town: 20 mpg vs. 16 mpg. And the price bump over the standard S is only $4,000.
Best of all, the hybrid drives just like a Porsche: seamless power, pavement-planted, and wicked fast. "Do it for less" is Porsche's hybrid tag line, and it certainly applies to the Cayenne.
The Prius Plug-in makes a wholly different but equally compelling hybrid statement.
By substituting an advanced 176- lb. lithium-ion battery pack for the standard nickel metal hydride set and adding an external battery-charging port to the right rear fender, Toyota has created a Prius that goes 12 miles on an electric charge in addition to the 49 mpg it gets under normal hybrid driving.
Reloading is an easy matter. The Plug-in comes with a lightweight 24-foot battery charging cable. One end goes in the fender port, the other in a standard 120-volt household outlet, and within three hours, you are charged up and ready to go. Those with a short daily commute with plug-in facilities at both ends can make a significant dent in their gasoline consumption.
The Prius Plug-in drives like the standard Prius, which is to say, adequately. The added weight of the new batteries slows the 0-60 time to 11.3 seconds from 9.8 seconds. The regenerative brakes still feel clunky, and the driving position and cockpit layout still have a "beam-me-up-Scottie" air about them.
Just as with the Cayenne, the Prius payoff comes in the form of psychic rewards, not monetary ones. At $32,000, the Plug-in carries a stiff financial premium over the standard Prius, although the pain can be lessened by a $2,500 federal tax credit.
But there is motoring pleasure to be had here. The transition from electric power is seamless, and there is the satisfaction that comes from seeing gas mileage in the high double digits while running errands around town. And there is never a worry about the onset of range anxiety.
Forecasting sales of electrified vehicles is famously difficult. Lately it has been made even more so by fluctuating gasoline prices and production interruptions in Japan caused by the earthquake and tsunami. Nevertheless, Toyota believes the Prius will outsell the Camry by 2020, and that hybrid sales will account for about a quarter of all Toyota sales.
In as much as Toyota hasn't been wrong about very many things hybrid related since introducing the Prius 11 years ago, other manufacturers will wisely take note -- and the naysayers may want to hold their fire.